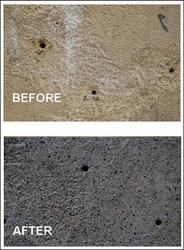 "We resurfaced our thirteen-year-old, heavily used walls with Eldorado Wall Company's new MicroTex. Not only did the MicroTex allow us to restore the look of our walls, it also encapsulates the aging texture and preserves the integrity of the walls."
Boulder, CO (PRWEB) March 1, 2010
Eldorado Climbing Walls announces the launch of MicroTex™, a revolutionary pliable climbing wall resurfacing system, which can be applied over existing cementitious climbing wall surfaces to give climbing wall structures a facelift.
As the first generation of indoor climbing walls has aged over the last ten to fifteen years, these walls are showing signs of surface wear and tear though they remain structurally sound. Climbing wall surface wear can diminish the overall appearance and aesthetics of a facility, as well as lead to decreased satisfaction and participation by climbers. Historically, the ability to resurface a climbing wall has been limited and costly. With MicroTex's thin-coat system, a 1/16" layer of resurfacing is applied to the existing climbing wall, improving appearance and durability without sacrificing performance.
"MicroTex allows us to resurface an existing climbing wall with a very thin layer of texture," said John McGowan, President of Eldorado Climbing Walls. "MicroTex is a major innovation in the climbing wall industry, as the thin texture creates a beautiful surface that is stronger and more abrasion-resistant than the original surface."
Eldorado Climbing Walls' refurbishing system was originally tested at the Boulder Rock Club in 2009. In addition to MicroTex resurfacing, the Boulder Rock Club took advantage of Eldorado's full climbing wall refurbishing service to incorporate new features and design elements to their gym. "We resurfaced our thirteen-year-old, heavily used walls with Eldorado Climbing Walls' new MicroTex. Not only did the MicroTex allow us to restore the look of our walls, it also encapsulates the aging texture and preserves the integrity of the walls," said Kevin Bains, Operations Manager at the Boulder Rock Club. "The new texture has a great feel and friction our members are raving about. The process was easy, and we now know we will get at least another thirteen years from these walls."
The MicroTex climbing wall resurfacing system is available exclusively from Eldorado Climbing Walls. More information and images of the Boulder Rock Club transformation are available at http://www.eldowalls.com/our-walls/climbing-wall-refurbishing/ or by calling 303-447-0512.
About Eldorado Climbing Walls
Since 1994, Eldorado Climbing Walls has delivered the finest rock climbing wall systems in the industry. Eldorado Climbing Walls offers turnkey climbing wall systems to meet any need and size, working with clients to create a wall that is visually stunning, offers exceptional climbing and complements the architecture and traffic flow of their facility. Eldorado Climbing Walls clients include climbing gyms, colleges, universities, municipal parks and recreation centers, government and military, K-12 schools, fitness centers, YMCAs, camps, family entertainment centers, and other climbing wall facilities.
###