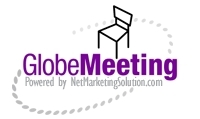 Montreal, QC (PRWEB) May 7, 2008
NetMarketingSolution.com, the Montreal Internet marketing firm, will provide an elearning software application, called GlobeMeeting, to Jasabel, a training organization specialized in productivity.
GlobeMeeting is an online software tool that offers virtual classroom capabilities complete with a teacher (moderator) offering courses using documents that can be presented to a virtual classroom or on an individual basis. The lecture can be completely interactive, allowing questions to be asked during the session using GlobeMeeting's virtual classroom software capabilities and VoIP functionality.
The GlobeMeeting elearning software solution allows for features such as raised hand, PowerPoint presentation broadcasting, exams and questionnaires tab, webcam view of teacher, and much more. You can increase student participation and reduce the length of the learning curve by using GlobeMeeting as an online learning software solution.
Jasabel's clientele is composed of SMEs and large companies whose employees wish to increase their effectiveness and balance their personal and professional lives. Their fields of expertise are Competitive Intelligence, time and priority management, and positive business networking.
About NetMarketingSolution.com
Founded in 1987, NetMarketingSolution is a Canadian company that specializes in Internet marketing consulting services and marketing software and web application solution development. NetMarketingSolution's mission is to help companies achieve their objectives by proposing and planning original Internet marketing solutions and integrating technologies to automate and optimize their marketing activities. For more information on our services and our solutions, please visit http://www.netmarketingsolution.com.
Media Contact:
Julie Watson
NetMarketingSolution.com Inc.
1000 Saint-Antoine West, Suite 400
Montreal, QC
Tel.: (514) 861-1881
Toll free: 1-866-632-7217
###