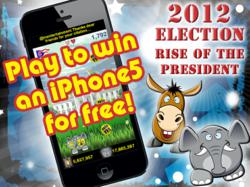 By collecting data per Team, the goal was to create a game that could predict the result of the upcoming presidential election.
San Francisco, CA (PRWEB) October 19, 2012
The newest way to show support for a political party: 2012 Election - Rise of the President. The simple but addictive game was created by Stiven Deleur, a talented 14 year old who started coding only a few months ago. His father came up with the idea one afternoon. "I wanted a fun way for people who are interested in politics, to participate in the election process and show support for their candidate. Plus, by collecting data per team, I realized we could create a game that could predict the result of the upcoming presidential election."
Alex Deleur pitched the concept to his young son, who thought it was a great idea. "My dad told me about his idea and I immediately started to look for tutorials to start the development! He didn't have to try to convince me." The father and son team worked to create a prototype of the game—Alex created the design, and Stiven wrote the code. They posted it on Kickstarter, a popular website that connects projects and their creators with individual investors.
The project was picked up by a budding social gaming company, Eternal5. "We saw a huge potential for the game, but it needed to be filled out some more," says founder Bruno Didier. "It was easy to play, but we wanted to introduce more depth to make it really addictive."
Under the guidance of Eternal5's team of techie entrepreneurs and a growth hacker, the game evolved from just a Democrat vs Republican game to a social web of national battlegrounds. The original version was simple: players choose their party and collect items that will help their candidate's campaign while avoiding items that will cost him votes.
The election game has retained that foundation. But in accordance with Eternal5's vision, the most appealing part of the game is its social aspect. The battlegrounds are the states that have not yet been won in the real world election. Each time a player gets a high score, it will be added to their party's overall score in their chosen state. This means that players compete on a party-to-party scale, connecting people around the US in a fight for their candidate's success.
The content of the game changes dynamically with the campaign and current events. The developers have plans to include new objects to collect based on the latest hot debates and current events. They have polls on their Facebook page for gamers to choose upcoming content themselves. Similar to several popular other games, the virtual currency can be used to purchase items to help players' preferred candidate get ahead. Currently gamers can hire a new press secretary, steal votes from the opposing party,use slow motion mode or unlock extra features like backgrounds, points multiplier or extra lives.
The team also plans to reward their loyal players by offering an iPhone 5 to their best player. On November 6th, the player who has the highest score for the winning team, will automatically receive a brand new unlocked phone. "We thought it would be a fun way to add a tangible competitive element and engage players while connecting the video game to real life" said Bruno.
It's impressive for a project that began only a couple of months ago, and it promises to be continually engaging and fresh. So the only question now is – who will you "vote" for?