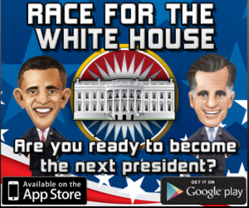 Will you be our next President?
Netherlands (PRWEB) August 03, 2012
Taking the White House and becoming the most powerful person in the world is no easy task, and as in real politics tough decisions need to be made and the game of dirty politics needs to be played.
Election Game 2012: Race for the White House offers the full experience with a wide range of features including:

Choosing your own candidate;
Interactive pinch to zoom US campaign map;
Play the media by appearing on talk shows;
React to world news events;
Collect (risky) funds;
State by state advertisements;
Rally volunteers;
Dig for dirt on your opponent (dirty politics); and
Try to smear your opponent through covert operations.
Richard Hazenberg, CEO of Lunagames comments "We are very exited by the initial support we got for this App and you'll be seeing regular updates as we head towards Election Day bringing additional fresh content and features."
The App can be downloaded for free through the Election Game 2012 Website (http://www.election-game.com) and is available on the App Store and Google Play.