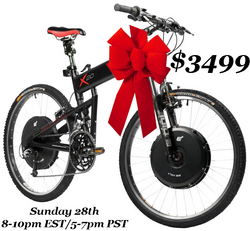 "Those in the market for an electric bike should mark their calendars and sign in during the sale times to take advantage of the greatest deals ever offered on the worlds best electric bike." Jason Seybold - E+ Electric Bikes
Sterling, VA (PRWEB) November 24, 2010
Each day of the black Friday thanksgiving day weekend,E+ Electric Bikes will put a different Signature Series Electric Bike on sale at outrageously low prices. These prices are so low that they're only going to offer them for a two hour period for each model. After the two hours are up, so is the deal!
This sale will be internet only, through their online E+ Electric Bikes shop. The two hour sale will be from 8-10 pm EST/5-7pm PST on Thursday, Friday, Saturday and Sunday only (November 25th-28th).
The E+ Tidalforce M-750 x2.0 is a one of a kind folding electric bike that was based on the folding Montague Paratrooper™ frame. The E+ Retro Cruiser and E+ Glide are specifically designed as high comfort bikes. The E+ Elite Mountain Bike is a best seller among all the E+ electric bikes for sale.
The E+ bike looks like a traditional bike, with no battery housings motor fittings, or electronic control boxes hanging from the frame or rack. The rider operates the E+ like a conventional bike in pedal mode, while having at all times the option to use the motor simultaneously while pedaling or to use the motor alone. The E+ propulsion system is integrated into the vehicle, with the hub battery pack in the center of the front wheel and the hub motor in the center of the rear wheel.
Relax at home and spend happy hour on the E+ Electric Bikes website this weekend, where a new bike is only a click away. Special shipping offers include adding a huge red bow to the pre-assembled, ready to ride E+ electric bike.
# # #