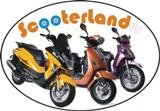 San Jose, CA (PRWEB) April 12, 2013
Scooterland US is pleased to announce its new folding mobility scooter sale for the month of April. The regular price for the folding mobility scooter is $699 and will be on sale for only $599.
The folding mobility scooter, one of Scooterland US's portable mobility scooters, has a top speed of four miles per hour and a max capacity of 253 pounds. The charge time is up to eight hours and the max range is up to 10 miles on a flat surface. The scooter has a 33-inch turning radius, making it ideal for indoor use.
They now also have in stock a pre-owned 500cc Yamaha TMAX in immaculate condition. The Yamaha TMAX is available for $6,600. Its features include a 500cc 4 Stroke engine, automatic transmission and a top speed of 85 miles per hour. The TMAX has a fuel efficiency of over 50 miles per gallon.
By mid April, Scooterland will have more electric bikes coming in to restock the ones which are sold out. They will also be bringing in newer models. They have already added more off-road vehicles (quads and dirt bikes), as well as smaller scooters for kids and bigger and more powerful ones for adults.
In addition to its showroom, Scooterland's service and repair department will also be open throughout the month of April. Scooterland's service and repair prices are still the best in town. They can repair just about any two- or three-wheel vehicle, as well as ATVs.
Stop in to Scooterland's showroom at 5779 Winfield Blvd #1, San Jose, or call them at (408) 384-4897.
About the company:
Scooterland US is a San Francisco Bay Area owned and operated scooter shop. They have scooters and bikes for the entire family, and specialize in selling gas powered and electric scooters and electric bikes. They have a wide variety of mobility scooters, all available in their magnificent showroom, complete with testing equipment for buyers to fully enjoy and examine before purchasing.