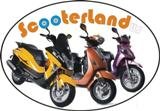 San Jose, CA (PRWEB) May 21, 2013
Scooterland US is excited to announce that they have just received a new shipment of electric bikes, perfectly timed for the gorgeous weather in San Francisco. They have brand new bikes, including a Folding Bike and the Leopard.
Due to the demand for inexpensive folding mobility scooters, Scooterland US is continuing their sale until May 15. After selling out of these popular scooters in just three weeks, they are happy to announce that there are now more in stock. The scooters are regularly priced at $699, and are on sale for $599.
Visit the Scooterland US website at http://www.scooterlandus-bayarea.com/ to check out their variety of bikes and mobility scooters. They have electric bikes, including Lithium Ion Bicycles, electric scooters, gas scooters, off road bikes and quads, as well as their own repair and service department.
Also during May, Scooterland US is joining in on the fun at many bike riding events in San Francisco. Check them out on Facebook for event information on when and where to join them. Those interested can also rent an electric bike for the day to ride with Scooterland US.
In even more exciting news, Scooterland US is proud to announce their newest location in downtown San Jose will soon be celebrating its Grand Opening. Visit https://www.facebook.com/ScooterlandCA to stay updated on all things Scooterland US.
For more information about Scooterland US, please call (408) 384-4897 or visit http://www.scooterlandus.com/.
<br>About the company:<br>
Scooterland US is a San Francisco Bay Area owned and operated scooter shop. They have scooters and bikes for the entire family and specialize in selling gas-powered and electric scooters and electric bikes. They have a wide variety of mobility scooters, all available in their magnificent showroom, complete with testing equipment for buyers to fully enjoy and examine before purchasing.