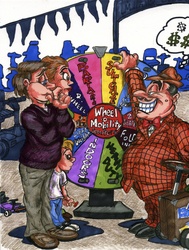 ...insightful, and often hilarious, look at the misfortunes of choosing the wrong electric mobility scooter
(PRWEB) December 29, 2009
Glenn Coleman's most recent eBook "Baffled By Mobility Scooter Choices?" is an insightful, and often hilarious, look at the misfortunes of choosing the wrong electric mobility scooter. With more than 200 different models on the market from which to choose, the various and often unforeseen ways in which one can use a scooter, and the countless features and amenities available, it's no big surprise when buyers get stuck with a less than perfect-fitting scooter on their first try.
To strategically address this problem, Coleman's eBook "Baffled By Mobility Scooter Choices? presents a detailed list of options to consider when buying an electric mobility scooter. Bang for your buck, this 19-chapter eBook addresses many interesting topics, including the following:

Five important facts one needs to know before getting a mobility scooter
Eight key factors that determine what type of mobility scooter is best suited for a 1st time buyer
Scooter search checklists that help one deal with salespeople and ensures one considers all the options when buying a scooter
"Baffled By Mobility Scooter Choices?" also abounds with tips on financial assistance to purchase a scooter, Medicare and private insurance options, storage, maintenance, ramps, van lifts, and much, much more! One can get the first two chapters of his mobility scooter buyer's guide free at his website.
Coleman gets his inspiration to write about electric mobility scooters from his long-time friend Peter who suffers from MS and who has been riding mobility scooters and power wheelchairs since 1992. Peter, like many people who suffer from a debilitating condition, wants to live an independent life. And his electric mobility scooter provides him with that freedom.
Despite losing most of his ability to use his arms, and despite having to use "Sip and Puff" controls, Peter drives his power wheelchair 2km into town every day along busy streets and intersections. "I am so inspired by his determination," says Coleman with a smile.
There was so much to learn from Peter's 18 yrs of mobility scooter experiences that Coleman kept notes and began writing what is now the foundation of "Baffled By Mobility Scooter Choices?" After consulting with occupational therapists and mobility experts, the research material quickly became too large for one eBook, so Coleman created three:
1) Baffled By Mobility Scooter Choices?
2) Know Your Danger Zones!
3) The Secrets to Stress-Free Mobility Scooter Travel by Bus or Plane
The three eBooks are available for electronic download through Coleman's website, Mobility-Scooter-Reviews.com. Cost per book starts as low as $12.95 to $21.95. Complete tables of content for each eBook may also be viewed at Mobility-Scooter-Reviews.com. One can also get the first two chapters of the buyers guide for free.
Coleman has numerous testimonials from people who have found the information very helpful in choosing their mobility scooter. And since launching his website (Mobility-Scooter-Reviews.com) two years ago, Coleman has helped hundreds of people to select their mobility scooters.
"Meanwhile," Coleman resumes, "Peter continues to be determined to stay in his home. And he creates great inspiration in me by his strength to want to live a life without obstacles."
About Glenn Coleman
Glenn Coleman is the author and publisher of Mobility-Scooter-Reviews.com and has ongoing contact with prospective electric mobility scooter owners who register at his website to receive his mobility scooter buyer's guide and defensive driving tips. Mobility-Scooter-Reviews.com also provides heavy duty and 3-wheel mobility scooter comparisons. Site visitors can read reviews on all the major brands side-by-side, including comparisons with Pride Mobility Scooters' wide range of models.
###