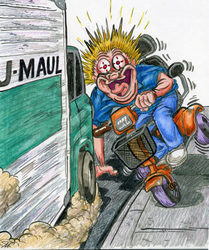 Mobility Scooter Danger Zone: "Falling Off The Curb Into On-Coming Traffic"
(PRWEB) December 28, 2009
"Electric Mobility Scooter Danger Zones" are seemingly innocent traffic and road conditions encountered by mobility scooter drivers every day -- conditions that may cause bad accidents. Narrow sidewalks, uneven pavement or no pedestrian curbs at all are only a few examples of the dangers faced by drivers of electric mobility scooters. Accidents on these road conditions can be catastrophic for drivers of mobility scooters: a broken hip, a punctured lung or even deadly head trauma.
To highlight these dangers, Glenn Coleman wrote -- in collaboration with occupational therapists and mobility experts -- the ebook "Know Your Mobility Scooter Danger Zones!" The ebook alerts new scooter owners of potentially dangerous road conditions. Coleman also teamed up with popular cartoon artist Mike Swaim to produce brash cartoons, which drive home the message about mobility scooter danger zones. The adjacent cartoon, "Falling Off a Curb Into Oncoming Traffic," illustrates one such danger zone. Yet another cartoon (not pictured) illustrates the dangerous shaking effects to a driver when driving a mobility scooter over uneven pavement. Such violent shaking may cause the driver to lose control of his or her mobility scooter.
Coleman admits to being a bit nervous about publishing cartoons that depict mobility scooter owners in very scary situations -- worried that he may scare potential scooter buyers into not getting a scooter at all. But given how dangerous certain road conditions can be for drivers of electric mobility scooters, and given the nearly fatal mobility scooter accident of his friend Peter who suffers from MS, Coleman decided that publishing the brash cartoons was warranted.
Peter, like many people who suffer from a debilitating condition, wanted to again live an independent life. His electric mobility scooter provided him with that freedom. Then one day, within moments, the mobility scooter that once provided independence turned into a dangerous trap for Peter. His scooter plummeted sideways off an uneven curb into oncoming traffic at a busy intersection leading to a nearby highway on-ramp. Peter narrowly avoided being hit -- barely.
Even worse, people who buy "used mobility scooters" compound the problem of avoidable mobility scooter accidents -- people who are not sufficiently educated by a mobility expert at the time of sale. These buyers end up with a mobility scooter that doesn't match their personal needs, which increases their risk of having an accident or having their scooter break down.
Coleman explains, "As more and more baby boomers and persons with disabilities purchase electric mobility scooters, officials around the world are now scrambling to put together educational materials to better inform their constituencies about the ever increasing problem of electric mobility scooter safety.
Coleman, who remains inspired by Peter's continuing determination to live an independent life on his mobility scooter, hopes his ebook will reach people world wide, "while cities scramble to adopt their own policies and educational campaigns," Coleman continues.
Coleman invites you to connect with him to share your experiences with electric mobility scooters. We can all work together to improve mobility scooter safety. And in the process, we can give individuals like Peter a second chance at safe, independent living.
Glenn Coleman is the author and publisher of Mobility-Scooter-Reviews.com and is in constant contact with budding mobility scooter owners who sign-up at his website to receive his mobility scooter buyer's guide and defensive driving tips. This is an ideal opportunity to reach out to prospective mobility scooter owners before they purchase a scooter. Mobility-Scooter-Reviews.com also provides heavy duty and 3-wheel mobility scooter comparisons. Site visitors can read reviews on all the major brands side-by-side, including comparisons with Pride Mobility Scooters wide range of models.
###