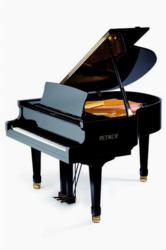 I have never offered prices this low on such quality pianos
Burlingame, CA (PRWEB) March 10, 2012
World Class Pianos, a San Francisco music store, is now celebrating 52 years in business with an ongoing red tag sale that features up to 50-percent off all types of pianos, from digital pianos to grand pianos.
"I have never offered prices this low on such quality pianos," Joe Brattesani of World Class Pianos said.
The limited offer features marked down brands, such as new or used Steinway, Petrof, Palatino and Roland pianos. Customers may find a list price of $4,050 on an upright piano cut down to $1,988. New petite grand pianos are being offered at 44-percent off, and a Roland digital piano is being marked down to $1,399 from $2,799.
Joe Brattessani has been a large part of the music business for 52 years and has been recognized for his contribution in the planning and strategizing of new models, along with meeting sales goals above and beyond expectations. He is one of two people who have received the acclaimed Austrian piano manufacturer's "Bosendorder Piano Life Time Achievement Award." He received the honor in 2006.
World Class Pianos offers rental pianos, piano teacher referrals, piano tuners and technicians, piano movers, piano appraisals and piano discs. The music store also features a myriad of pianos, including digital pianos, grand pianos, player pianos and more.
For more information about the red tag sale or any of World Class Pianos' products or services, call 650-340-8088, view World Class Pianos on the web at http://www.worldclasspianos.com or visit the store at 1471 Burlingame Ave. in Burlingame.
About World Class Pianos
World Class Pianos, a San Francisco Bay Area music store, offers musical expertise and high-quality pianos at affordable prices. It provides excellent customer service and represents quality pianos and digital pianos that are recognized around the world.