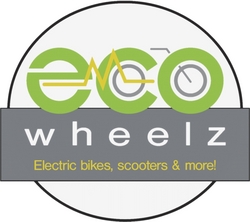 Not only are electric bikes fun and easy to operate, they're extremely cost efficient
Plymouth, MI (PRWEB) October 27, 2008
There's a new bike shop in town, but this isn't your typical bike dealer. eCo Wheelz specializes in electric-powered bikes, scooters and mopeds. Founded by the father and son team of Craig and Jeremy Panizzoli, eCo Wheelz intends to change the way people commute by providing eco-friendly alternatives that are cleaner and cheaper than gas-powered vehicles. Travel up to 40 miles per charge at speeds of up to 20 mph. All products are 100% electric and most require no insurance or registration.
"Not only are electric bikes fun and easy to operate, they're extremely cost efficient," says Jeremy Panizzoli, President and Founder of eCo Wheelz, Inc. At just $0.10 per charge, it costs less than a penny per mile to operate an electric bike or scooter. In comparison, it costs an average of $0.15 per mile for gasoline - or 1500% more to operate a gas-powered vehicle. Add in license costs, insurance, registration, maintenance and other fees - and the cost skyrockets. According to recent U.S. Government figures, the average cost of driving and maintaining a motor vehicle in the United States is $0.54 per mile.
For years, electric bikes have received widespread acceptance throughout the world - especially in Europe and China. But it wasn't until recently, with record gas prices and mounting environmental concerns, that they became a feasible option for many Americans. Today, new dealers are popping up throughout the U.S. and traditional bike shops are jumping on the bandwagon. Even so, many consumers are still unaware that electric bikes and scooters exist.
"That's where we come in," said Panizzoli. "Our objective is to educate and inform people about these exciting new products. Hopefully, we can help change the way people think about getting from Point A to Point B. Not only are electric bikes great for consumer's wallets, but they're great for our economy and our environment."
Electric bikes and scooters come in a wide variety of styles - from mountain bikes, to street rides, to cruisers. Some operate through the use of a throttle, while others use more advanced "power-assist" technology. Choose from standard sealed lead acid (SLA) batteries, or upgrade to Nickel Metal Hydride (NiMH) or Lithium Ion (Li-Ion) to reduce weight, maximize range and extend battery life.
To find out more about electric bikes and scooters, visit eCo Wheelz online at: http://www.eco-wheelz.com
Or contact:
Jeremy Panizzoli
eCo Wheelz, Inc.
198 S. Main Street
Plymouth, MI 48170
(734) 453-3359
###