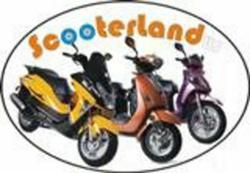 We are trying to do our part to end the societal addiction to oil. The less we need oil, the cheaper it will become
San Jose, CA (PRWEB) September 09, 2011
Scooterland US, located in San Jose, is currently offering a special of 10 percent off its entire scooter and electric bike inventory. The promotion is good until the end of September. The special offer aims to help encourage people to ride more efficiently with electric scooters or motorized bikes during the summer to save money on gas.
The discount will include everything for sale in the showroom with no exceptions. The deal includes helmets, jackets, backpacks, and other accessories. A vast majority of the electric bikes and scooters are under $2,000, so the sale makes the products even more affordable and more than half of the products do not require special licensing from the DMV.
"We are trying to do our part to end the societal addiction to oil. The less we need oil, the cheaper it will become," said Joe Faris, director of Scooterland US.
As a nation, we are often a slave to oil because it is the primary source to power our modes of transportation. Scooterland US wants to promote other alternatives for people to ease off the dependence of oil. During today's dire economic conditions, everyone is trying to stretch their money further. Their special offer is the best way to save money and, at the same time, help clean and preserve the environment.
Interested customer can visit their showroom at 5779 Winfield Blvd. San Jose, CA 95123 or call them at (408) 225-5911. Visit their website http://www.scooterlandus.com to view the latest products and events.
About Scooterland US
Scooterland US is the primary seller of scooters and motorized bikes in the Bay Area. They have a wide variety of mobility scooters, all available in their magnificent showroom, complete with testing equipment for buyers to fully enjoy and examine before purchasing.
###