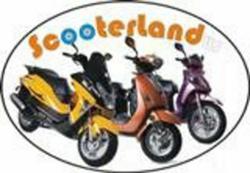 We just received our shipment of this new line of dirt bikes and ATV's
San Jose, CA (PRWEB) October 19, 2011
Scooterland US a Bay Area electric scooter shop is now offering a new line of off-road vehicles such as the 125cc dirt bikes and ATVs. These products become part of an already impressive line of gas scooters, electric scooters, mobility scooters and electric bikes offered by the Bay Area company.
"We just received our shipment of this new line of dirt bikes and ATV's," said Joseph Farris, Director of Scooterland US. "Because there are a great many people who enjoy off-roading, we wanted to offer them great ATV's and dirt bikes at wholesale prices."
Scooterland US has the 125cc ATV's The Diamond and The Web available for sale. Customers can choose from manual or automatic transmission. The ATV's have a top speed of 30 to 35 mph. They also carry a 125cc dirt bike, The SL-125, which is in manual transmission and also has a top speed of 35 mph.
Scooterland US offers numerous environmentally friendly options for Bay Area residents. As gas prices steadily climb and air quality continues to drop, transitioning to an all-green electric scooter or eco-friendly gas scooter is not only a smart idea for the environment, it is also a great money-saving option. Scooterland US of the Bay Area also has mobility scooters and kids' scooters available.
For more information on Scooterland US, visit them on the web at http://www.scooterlandus.com or at their showroom at 5779 Winfield Blvd., San Jose, CA 95123. They can be reached at (408) 225-5911.
About Scooterland US
Scooterland US is a San Francisco Bay Area owned and operated scooter shop. They have scooters and bikes for the entire family, and specialize in selling gas powered and electric scooters and electric bikes. They have a wide variety of mobility scooters, all available in their magnificent showroom, complete with testing equipment for buyers to fully enjoy and examine before purchasing.
###