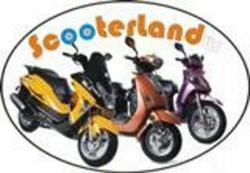 Scooterland US is celebrating the holidays by giving huge savings for everyone
San Jose, CA (PRWEB) December 14, 2011
Having some of the most affordable scooter servicing prices in the Bay Area, it is hard to believe that the Bay Area electric scooter company, Scooterland US can lower their prices even further, but, for a limited time only, that is precisely what they have done. Scootlerland is offering a discount to celebrate the holidays, lowering their prices on much of its stock.
"Scooterland US is celebrating the holidays by giving huge savings for everyone," says Mike Nijmeh of Scooterland US. "This will allow people to afford to take care of their scooter needs during the holidays."
The scooter shop is offering 10 percent off electric toy cars for kids, including remote control models, $50 off list price on electric scooters and $25 off all repairs over $100. They are also giving away free DOT approved helmets with the purchase of any gas scooter.
Scooterland US specializes in all-green electric scooters and eco-friendly gas scooters, offering numerous environmentally friendly options for Bay Area residents. They carry a variety of the best electric bikes around, like the 800 Watt Bumble Bee electric bike and the new E- Ali Baba Scooter. For those with an M class license, they offer their gas-powered scooters that feature an impressive 75 miles per gallon.
At Scooterland US, there is a scooter for everyone in the family. Their selection of kid's scooters, cars and ATVs are sure to excite any young child and give them the opportunity to have fun outside. They also have mobility scooters for those having a difficult time getting around.
For more information on Scooterland US, call (408) 225-5911 or visit them online at http://www.scooterlandus.com. Scooterland US is located at 5779 Winfield Blvd. in San Jose.
About Scooterland US
Scooterland US is a locally owned and operated scooter shop in the San Francisco Bay Area. They have scooters and bikes for the entire family, and specialize in selling gas-powered and electric scooters, electric bikes and mobility scooters.
###