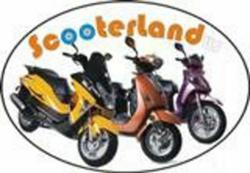 Since a local team has made it to the playoffs, we are offering good deals for all
San Jose, CA (PRWEB) January 31, 2012
Scooterland U.S., a Bay Area electric scooter shop that offers the best gas scooters, mobility scooters and electric bikes to San Francisco Bay Area residents, is currently offering a Super Bowl challenge and prize in time for the big game.
"Since a local team has made it to the playoffs, we are offering good deals for all," said Burt Jorell Colin of Scooterland U.S. "Guess the winner of the Super Bowl and receive 20-percent off the listed price of any gas or electric scooter."
Guesses must be e-mailed to Scooterland U.S. and given in person at the store before the game. Scooterland is also slashing $20 off the listed price of all toys during this time.
Scooterland U.S. offers numerous environmentally friendly options for Bay Area residents. As gas prices steadily climb and air quality continues to drop, transitioning to an all-green electric scooter or eco-friendly gas scooter is not only a smart idea but a great money-saving option.
Scooterland U.S. also has mobility scooters and children's scooters available.
"New year, great football! We would like our customers to enjoy the Super Bowl while enjoying great deals and service from us," Colin said.
For more information about any products or services offered by Scooterland U.S., call 408-225-5911, view the company on the web at http://www.scooterlandus.com or visit its showrooms at 5779 Winfield Blvd. in San Jose.
About Scooterland U.S.
Scooterland U.S. is a San Francisco Bay Area owned and operated scooter shop. It features scooters and bikes for the entire family and specializes in selling gas-powered and electric scooters and electric bikes. It has a wide variety of mobility scooters, all available in its magnificent showroom and complete with testing equipment for buyers to fully enjoy and examine before purchasing.
###