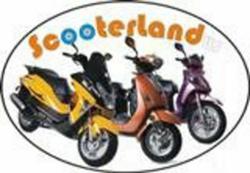 Our customers can be rest assured that there is a scooter company to stand behind them 100 percent
San Jose, CA (PRWEB) April 14, 2012
Scooterland US, a Bay Area electric scooter shop and repair center that offers premier gas scooters, electric scooters, mobility scooters and electric bikes, is proud to announce that it is now a five-star service company.
"Our customers can be rest assured that there is a scooter company to stand behind them 100 percent," Mike Nijmeh of Scooterland US said.
Scooterland US became a five-star service company because of the company's commitment to excellent customer service, as well as its ability to provide low cost pick up and delivery, and its experience with all models of gas or electric scooters, whether it's a street-legal scooter or a mobility scooter.
The scooter shop is also a multilingual shop, with a team of experts who speak fluent English, Spanish, Arabic and Russian. Scooterland US also offers one of the lowest hourly rates.
Scooterland US offers numerous environmentally friendly options for Bay Area residents. As gas prices steadily climb and air quality continues to drop, transitioning to an all-green electric scooter or an eco-friendly gas scooter is not only a smart idea, but a great money-saving option.
For more information about any products or services offered by Scooterland US, call 408-225-5911, view the scooter company on the web at http://www.scooterlandus.com or visit the showroom at 5779 Winfield Blvd. in San Jose.
About Scooterland US
Scooterland US is a San Francisco Bay Area owned and operated scooter shop. It features scooters and bikes for the entire family and specializes in selling gas-powered and electric scooters and electric bikes. Scooterland US has a wide variety of mobility scooters, all available in its magnificent showroom and complete with testing equipment for buyers to fully enjoy and examine before purchasing.