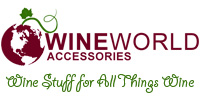 Any of their wine accessories gifts are sure to enhance your overall wine experience and you will be given peace of mind knowing that you have bought them from a trusted source.
Miami, Florida (PRWEB) September 15, 2012
Wine World Accessories is offering an array of home bar and wine bottle accessories. The company has now announced 13% off on 'Lilly of the Valley' red wine glasses – these are hand painted by artist Carolyn Tunon and adorned with Swarovski elements. Nonetheless, 'Lilly of the Valley' Red wine glasses make an excellent gift for wine and flower enthusiasts alike.
The beautiful wine glasses 'Lilly of the Valley' come in a set of two and since each is hand painted no two are identical. These are equipped with the feature that increases the oxidation rate and are tall with a broad bowl, slim neck and a circular base foot. Specifically designed to accumulate aromas of delicate red wines, these red wine glasses from the company are now available at discounted prices.
Wine World Accessories also offer crystal wine glasses which are sure to enhance the wine tasting experience as these are designed specifically for that purpose. Nevertheless, apart from offering red wine glasses, the company also offers a stunning collection of white wine glasses and a variety of masterfully crafted crystal white wine glasses.
The company also offers quality drink coasters that thoroughly protect table surfaces from unnecessary beverage stains. There drink coasters are specifically designed to avoid stubborn stains left by the alcohol hanging at the edge of its glass.
A spokesperson for the organization states, "Apart from rescuing your table surfaces from unwanted stains, our selection of wine coasters and beer coasters also make a perfect house or apartment warming gift. Each and every one of our handy customized drink coasters comes in a set of four."
About the Company:
Wine World Accessories was founded with the idea that enthusiasts should be able to obtain affordable products from a trustworthy accessory website for an enhanced wining experience. It caters to enthusiasts seeking an enjoyable hassle-free online shopping experience and strives to provide a large selection of products with fast shipping and outstanding customer service.
To learn more visit http://www.wineworldaccessories.com
Wine World Accessories
Office Hours: Monday - Friday
9:00 AM(EST) - 5:30 PM(EST)
Toll Free: 866-891-Wine (9463)