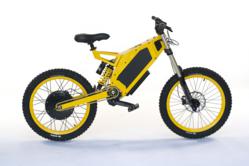 We also offer a lifetime warranty on the frame and swingarm, as well as a one year warranty on all components.
Phoenix, AZ (PRWEB) May 02, 2013
Stealth Electric Bikes continues to be a leader in the industry in high performance electric bikes, designed for use by professionals and amateur riders. The Stealth Electric Bikes team of engineers have been working with the feedback from customers and expert riders, such as RED BULL athlete and Gold Medal X Games freestyle motocross rider, Ronnie Renner, to create what many have said to be the ultimate high performance electric bicycle riding experience for 2013.
"The spring release of Stealth Electric Bikes includes upgrades to several components of The Bomber, The Fighter and The Hurricane," said Darin Brin, director of Stealth Electric Bikes USA. "We also offer a lifetime warranty on the frame and swingarm, as well as a one year warranty on all components. This is a statement to our quality and design," said Brin.
According to Stealth Electric Bikes USA, Regen Braking is now included on all Stealth Electric Bikes. Previously this was an $899.99 upgrade. The electric bikes also include: DuraRazorback tires, Magura MT2 Brakes and DNM suspension standard with all models of Stealth Electric Bikes. Brakes can be upgraded to the MT4 and the MT8, which includes the Carbotecture Brake lever and Aluminium forged caliper by Magura.
The Fighter includes the rear derail assembly hook, as well as the RSTR1 Fork and a Carbon Fiber Seat and Handlebars. The Fighter also includes coil over rear shock standard, rather than the standard air shock feature. Stealth has also included the capability to choose swing arm color or custom colored rim sets to the bikes.
All Stealth Electric Bikes are available in a variety of colors for 2013, including Space Blue, Camo Grey, Jet Black, Snow White, Army Green, Devil Red, Ultra Orange, and Bumble Bee.
Stealth Electric Bikes are now available for complete customization and ordering online at: http://StealthElectricBikesUSA.com
About Stealth Electric Bikes USA.
Stealth Electric Bikes redefine the ride experience. They are considered by peers to be the toughest and most powerful hybrid electric bike available anywhere in the world. Electric Bike Dealers are encouraged to inquire about opportunities for sales. For more information about distributing in your area, please contact Stealth Electric Bikes USA at 480-455-2578.