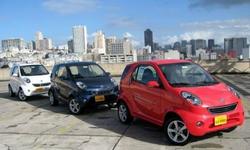 Ellis Brooks has the right culture, customer base, and location
Atlanta, GA (PRWEB) February 17, 2010
Wheego Electric Cars, manufacturer of all-electric vehicles, today announced it has signed Ellis Brooks Auto Center as its dealer with exclusive rights to sell the Wheego Electric Car product line throughout California's San Francisco Bay Area Including San Mateo, Santa Cruz, Monterey and San Francisco Counties.
Wheego President Jeff Boyd says Wheego is targeting successful dealers such as Ellis Brooks who are interested in looking to the future with Electric Vehicles. "Ellis Brooks has the right culture, customer base, and location," explains Boyd. "They are green in terms of the environment, but certainly not in terms of experience. They are seasoned professionals, and they will hit the ground running. Our low-speed vehicle is shipping now, and our full speed all electric car, named LiFe will be available to customers at Ellis Brooks Auto this summer."
Ellis Brooks Auto Center, a family-run business, was established in San Francisco in 1939. John Brooks is the General Manager; his uncle Arthur is the Production Manager, and their mother/Grandmother, Marie Brooks, overseas the family's auto holdings including Ellis Brooks Motors in Yreka, California. The Brooks family sees Electric Vehicles as the future of the automotive industry. "We have weathered many economic cycles since 1939," says Mrs. Brooks. "We've remained relevant and competitive because we listen to what our customers want. And what they are asking for now… is electric cars. The Wheego cars are all electric - no gas, no emissions. We are excited to be able to deliver an eco-friendly, affordable and innovative car to San Francisco."
Ellis Brooks will introduce the Wheego Whip to San Francisco with a test-drive event at their dealership on February 20. "We think people will be surprised at the performance and affordability of this car," said GM John Brooks. "We invite the public, fleet purchasers and local media to take it for a spin." The event will be open from 9:00a.m to 6:00 p.m. on Saturday February 20th.
The Wheego Whip LSV (Low-Speed Vehicle) runs on sealed lead-acid batteries and qualifies for a 10% Federal Tax Credit in 2010. With a sticker price of $18,995, the Wheego Whip LSV net price is just over $17,000.
The Wheego Whip LiFe Full-Speed all-electric car is expected in the summer of 2010. A prototype of the car was unveiled in January at the Washington D.C. Auto Show. The Whip LiFe runs on a lithium battery pack, and will go approximately 100 miles on a charge. The sticker price on the Wheego Whip LiFe is targeted for the low $30k's; the Whip LiFe qualifies for a $7500 Federal Tax Credit. Interested customers may reserve a car at Wheego.net/life.
Both Wheego Whip models are fully-loaded two-seat compact cars with fit, finish and features that compete with any other subcompact car on the market. Features include remote keyless entry, air conditioning, and MP3 stereo system.
About Wheego Electric Cars
Wheego Electric Cars is an innovation-driven and environmentally-conscious manufacturer of Electric Vehicles (EVs). Under the leadership of Mike McQuary, CEO and former MindSpring entrepreneur, Wheego Electric Cars has become a leader in the integration of advanced technology components. Wheego Electric Cars is one of the first EV companies to deliver affordable fully capable, street legal electric cars for everyday consumer use. For more information about Wheego, visit the company website at wheego.net.
About Ellis Brooks Auto Center
Established in 1939, Ellis Brooks Auto Center is located in the heart of San Francisco at 1395 Van Ness Avenue. Customer loyalty, satisfaction and repeat business are the cornerstones of the company. Ellis Brooks offers high-quality used cars and Wheego Electric vehicles. For more information about Ellis Brooks Auto, visit the company website at http://www.ellisbrooks.com or call 415-776-2400.
###