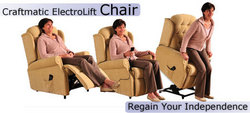 Shop by Phone & Save
Pompano Beach, FL (Vocus) October 15, 2010
Craftmatic Direct® is pleased to announce the offering of their brand new Zero Gravity ElectroLift Recliner, available through their convenient "Shop by Phone & Save" program. Those with difficulty getting in and out of chairs will find the Craftmatic Zero Gravity a welcome assistant to this everyday activity. The electric lift recliner allows the user to effortlessly sit down and stand up without any other assistance.
The Zero Gravity ElectroLift Recliner also comes with a full range of reclining options, making it perfect for sitting up to watch TV or reclining to take a midday nap. Thanks to Craftmatic's "Shop by Phone & Save" program, it is now easier than ever to order the automatic recliner chair for a friend, family member, or even yourself!
Constructed from quality materials, the electric lift recliner from Craftmatic will provide years of comfort and assistance for those who struggle with everyday mobility. The recliner slowly and steadily rises to allow the user to safely sit down or stand up from the chair.
In addition to the new electric recliners, the Craftmatic brand has over 1 million adjustable bed owners in the world. The same features that have made their adjustable beds so popular are present in the electric lift recliners including automatic positioning, soothing heat and relaxing massage options.
About the Company: The Craftmatic Adjustable Electric Bed has helped improve the lives of many people throughout the world. Craftmatic believes that they have opened up the opportunity to welcome so many that did not want a salesman to come to their home, but most of all, the many who may have never thought that they would be able to afford a Craftmatic before. They refer to their worldwide family of happy customers, as the lucky ones who wake up every day saying, "Thank You Craftmatic!"
# # #