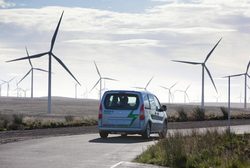 This is a great Scottish company which is a pioneer in creating the new generation of environmentally friendly vehicles.
(Vocus) November 7, 2010
With road transport responsible for a large proportion of environmental emissions it may seem surprising that a UK vehicle manufacturer, Allied Electric, has recently been recognised for their 'Outstanding Contribution to the Environment' in the Scottish Green Awards.
Emission Reductions
Although new cars and light commercial vehicles are gearing up to conform to Euro 5 standards for emission reductions, further cuts are required in order for the UK to meet ambitious targets to reduce total carbon emissions by 80% by 2050. Whilst many manufacturers talked about alternatives to the traditional fossil fuelled combustion engine to meet these targets; Glasgow-based manufacturer, Allied Electric, set about bringing a range of all electric, zero emission electric vehicles to market.
Allied Electric have found a viable electric alternative with their range of electric cars and electric vans. Their work on zero emission vehicles, which are currently working their way into the fleets of high profile public and private sector organisations such as Glasgow City Council and BT, that has been earned them the accolade for 'Outstanding Contribution to the Scottish Environment' in the Scottish Green Awards earlier this month.
"This is a great Scottish company which is a pioneer in creating the new generation of environmentally friendly vehicles." commented Alasdair Northrop, from event organisers Scottish Business Insider.
"They set a great example to others about what can be achieved in this exciting new area of business."
The Future in Electric Vehicles
Allied Electric has been working closely with a number of partners. This process began by conducting international research to identify technical partners in key fields. These included sourcing partners for high performance electric batteries, engines and engine management software. Based on the results of their research, Allied now leads a consortium of key technical partners based in Scotland and worldwide.
Allied have worked closely with Peugeot in particular and offer all-electric versions of the full range of Peugeot commercial vehicles, namely the Bipper, Partner, Expert and Boxer.
The vehicles combine the latest in lithium ion and polymer batteries with state-of-the-art electronic management software, and boast speeds of up to 65-70 mph and battery range of between 60-100 miles between charging.
Allied Electric zero emission vehicles are true to their title in that no emissions are produced directly in propelling the vehicle. In addition to reducing emissions these vehicles are up to seven times cheaper to run whilst no road tax or congestion charges apply, further reducing operating costs.
Growing Demand
Paul Nelson, Managing Director of Allied Electric, commented: "We firmly believe that there needs to be a real, viable alternative to the combustion engine and that we have found this in our range of all electric vans and electric cars.
"For Scotland to meet its ambitious emission reduction targets we need to see the widespread uptake of electric vehicles and we are proud to be at the forefront of this exciting change. In addition to the reduction of our carbon transport footprint we are delighted to be growing skilled manufacturing during these tough economic times."
For more on the latest electric vans and cars go to http://www.alliedelectric.co.uk
###