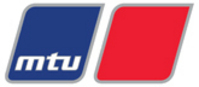 The EDP has been specifically designed to meet the high power, low fuel consumption demands of drill rig operations in one complete solution that is rugged enough to withstand the rigors of the oil field.
Detroit (Vocus) April 20, 2010
MTU, a global leader in power and propulsion systems, will introduce its new Electric Drilling Package to the North American market during the Offshore Technology Conference in Houston, May 3 - 6, 2010. The EDP has been specifically designed to meet the high power, low fuel consumption demands of drill rig operations in one complete solution that is rugged enough to withstand the rigors of the oil field. MTU will occupy booth #3765 in Hall B of the Reliant Center in Houston.
Each self-contained EDP consists of a diesel engine, generator, radiator and control panel mounted on a rigid base frame. The generator is powered by an MTU 12V 4000 G73 engine, capable of producing 1,105 kW (1,482 bhp) plus 10% overload capability at 1,200 rpm. The second-generation common rail fuel injection from the Tognum subsidiary L'Orange offers greater precision and superior fuel economy. It has been specifically designed for the oil and gas market and is perfectly adapted for high run times and harsh operating environments.
"The Electric Drilling Package is an important addition to MTU's already strong portfolio of engine offerings for the oil & gas market," says David Oliphant, Director of Oil & Gas Sales and Sales Engineering for MTU Detroit Diesel. "These packages are based on decades of experience in oil and gas applications and have been designed to operate reliably anywhere in the world."
The EDP is a completely factory-built package, making MTU the single source for all components of the system. It is factory certified and every component is covered under MTU warranty. In addition, every component of the package is listed in MTU's parts system, so it can be supported by any of MTU's service locations around the globe.
Most modern drilling rigs will use three or more EDPs to provide all of the rig's power needs -- from the mud pump, drill table and top drive to the lights, heating and air conditioning. For rigs with a high power load, multiple EDPs will operate in parallel to generate enough power for the peak load demand while also offering the flexibility to take one or more units offline for maintenance or in times of lesser demand.
Also on display in the MTU booth will be a16-cylinder version of the hazardous duty Series 4000 engine for off-shore applications along with a Series 60 engine, a longtime workhorse in oil & gas applications and marine applications.
Founded in 1969, the Offshore Technology Conference is the world's foremost event for the development of offshore resources in the fields of drilling, exploration, production, and environmental protection. OTC is held annually at Reliant Center in Houston. Each year, OTC attracts more than 60,000 attendees and 2,000 exhibiting companies representing more than 110 countries.
About MTU
MTU Detroit Diesel, Inc. is the North American regional headquarters of MTU Friedrichshafen GmbH, one of the world's most important providers of diesel engines and drive and propulsion systems for ships, heavy-duty land and rail vehicles, and distributed energy. It offers a complete line of power solutions from 30 to 12,200 bhp (20 to 9,100 kW) for applications in the marine, rail, power generation, oil and gas, agriculture, mining, construction and industrial, and defense markets. MTU Detroit Diesel, Inc. is the sales and after-sales organization of the Tognum Group in North America. http://www.mtu-online.com
About Tognum
With its two business units, Engines and Onsite Energy & Components, the Tognum Group is one of the world's leading suppliers of engines, propulsion systems and distributed energy systems. These products are based on diesel engines with up to 9,100 kilowatts (kW) power output, gas engines up to 2,150 kW, stationary fuel cells up to 345 kW and gas turbines up to 45,000 kW.
The product portfolio of the Engines business unit comprises MTU engines and propulsion systems for ships, for heavy land, rail and defense vehicles and for the oil and gas industry. The portfolio of the Onsite Energy & Components business unit includes distributed energy systems of the brand MTU Onsite Energy and fuel-injection systems from L'Orange. The energy systems comprise diesel engines for emergency standby power, prime power and continuous power, as well as cogeneration power plants based on gas engines, fuel cells and gas turbines that generate both power and heat.
In 2009, Tognum generated revenue of €2.5 billion and employs more than 8,700 people. Tognum has a global manufacturing, distribution and service structure with 25 fully consolidated companies, more than 140 sales partners and over 500 authorized dealerships at approximately 1,200 locations. The shares of Tognum AG (ISIN: DE000A0N4P43) have been stock-exchange listed since 2007 and are included in the MDAX.
###