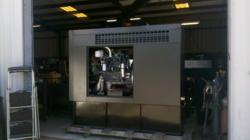 Houston, TX, (PRWEB) April 25, 2012
STGS has delivered this quarter, the first phase of ten unites to a large oil field service company for remote natural gas production locations. The units supplied are 100 kilowatt kW output with the smallest footprint available without affecting cooling or performance. With today's demanding specifications it is now possible to deliver a 100 kW generator with a 60 kW footprint reducing size without sacrificing performance.
The full range of diesel standby generators from 50 to 325 kW are powered by 1800 RPM water-cooled diesel engines and can be modified to meet customer needs. They not only meet all of today's stringent emissions regulations but are designed to meet those of the future. These generators beat the competition with their low noise levels, making them ideal for a wide range of applications. These units are among the top performers in their class for fuel economy resulting in reduced operation of generator costs. The engines are coupled with heavy duty 12 lead re-connectable generators. This allows the units to be wired for single or three phases at a wide range of voltages. They are self-exciting, synchronous, and brush-less permanent magnet generators.
Standard Units include Lift off lockable doors and control panel cover for ease of maintenance Vibration isolation mounting between engine/generator feet and base frame Insulation class H Double walled UL 142 listed based fuel tank on enclosed standby units Heavy duty dry type air filter Deep Sea engine control module with remote start Battery charging alternator Battery rack, cables, and charger Exhaust silencer, residential and critical Oil drain plumbed to frame Weatherproof, powder coated aluminum sound attenuated cabinet Main line circuit breaker Lug Connections.
For the more demanding specifications there are additional Optional Features that can include;
Fuel Conditioning System, DOT Approved Trailers Block Heater Multi-phase/voltage selector switches various fuel tank sizes to extend run times Engines - Deutz & Iveco Cam connectors or Polaris quick connections, 50 Hz Power Ranges all available on the from 50 to 325 kW size unites.
For more information on portable natural gas generators or diesel standby generators contact STGS for configuration standards and practices at http://www.southtexasgeneratorsystems.com/