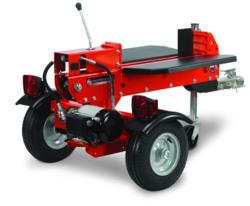 It's so quiet and no maintenance is required. We have split wood up to 22 inches with no problem. It purrs like a kitten, but splits wood like a 10 ton gorilla.
- DR Power Customer
Vergennes, Vermont (PRWEB) May 23, 2012
DR® Power Equipment announced today that its 10-Ton Dual-Action Electric Log Splitter, which is the only electric/gas combination wood splitter on the market today, has received high marks from its customers. According to Web-submitted testimonials and customer feedback, consumers have embraced the convenience of electric power and commended the machine's versatility. As one reviewer commented: "It's so quiet and no maintenance is required. We have split wood up to 22 inches with no problem. It purrs like a kitten, but splits wood like a 10 ton gorilla."
Because it plugs into a regular 110-volt electric outlet, the 10-Ton Dual Action Electric Log Splitter gives consumers enough power to cut knotty hardwood in a compact machine that they can use right in their garage or basement. For consumers who split wood year round, this makes a big difference because they no longer need to fight extreme cold to fill their fireplaces.
The convenience of splitting indoors or out in the hot summer with this model also offers value. As one customer noted: "there's nothing better than spending a rainy afternoon with the garage doors open while splitting inside."
The 10-Ton Electric Model is the only log splitter available with an optional conversion kit that changes its power source from electric to gas, giving the log splitter the ability to go outside the range of an electrical outlet. This machine also has the means to get there, too. With available fenders, tail lights, and ball hitch, consumers can tow the splitter to the most remote region of their property and even across town to another jobsite.
The conversion kit also adds an additional 5 tons of splitting force to the 10-ton electric splitter, giving it even more power for the toughest, knottiest hardwoods.
The log splitter belongs to DR's Dual-Action Splitter lineup, which includes a variety of gas powered models. These log splitters feature a time saving mechanism that splits logs in both directions, processing wood at up to two times the speed of conventional log splitters. Each of the models, which include gas, electric, and a 3-point hitch units, feature heavy-duty hydraulics and an optional road towing kit.
DR Dual-Action Log Splitters can be purchased directly from DR Power Equipment: http://www.drpower.com/logsplitters.
DR® Power Equipment, a division of Country Home Products, Inc., the premiere developer and marketer of professional-grade outdoor equipment for residential use, was founded in 1985 in Charlotte, Vermont. Today it occupies three facilities and employs 220 people. For more information on its complete line of power equipment and home care supplies, visit the web site at http://www.drpower.com.
PRODUCT PHOTOS AND DEMONSTRATIONS ARE AVAILABLE. DR® Power Equipment sells products factory-direct and through a network of over 500 dealers; a free catalog can be ordered at 802-877-1200, or obtained online at http://www.drpower.com. For more information on DR® POWER EQUIPMENT, please contact Jon Trobaugh at PR(at)drpower(dot)com