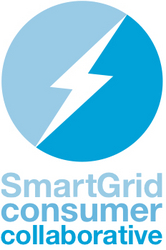 We believe that consumer engagement is going to be the critical element to the overall success of the Smart Grid.
Seattle, Washington (PRWEB) July 8, 2010
The Smart Grid Consumer Collaborative (SGCC) continues to build momentum with the announcement today of nine new members since its launch just three months ago. These new members embody one of SGCC's key principles -- to create a neutral and objective forum where all stakeholders can work together toward a modernized electric power system that is consumer safe and consumer friendly.
The new members exemplify this diversity. They include:

Leading vendors Accenture, Intel and Itron
Forward-thinking utilities American Electric Power (AEP), Progress Energy and Vermont Electric Power Company
Consumer advocates the California Public Utility Commission, the Texas Office of Public Counsel and the United Consumer Advocacy Network (UCAN)
The SGCC seeks a two-way dialog, such that the industry gains a better understanding of consumer needs and consumers gain a better understanding of the smart grid and the benefits it can bring to individuals, communities and the country. The SGCC has three priorities:
1. Listening to consumer needs and preferences via In-depth interviews and research
2. Educating consumers to give them more understanding, choice and control
3. Collaborating by sharing best practices to involve, engage and empower consumers
"Itron is honored to contribute to the SGCC our resources and ideas towards widespread Smart Grid education. As consumer adoption of energy management devices escalates, we are planning to learn from consumers and utilize our participation in the SGCC to help consumers take advantage of the benefits of the smart grid." said Philip Mezey, Sr VP and Chief Operating Officer, Itron N.A.
"Educating and informing residential and small business consumers about the benefits of smart grid and advanced meter technologies is an important step in shaping how we manage energy in the future," said Sheri Givens, public counsel, Texas Office of Public Utility Counsel. "The Texas Office of Public Utility Counsel looks forward to bringing value and expertise to the SGCC's efforts to take that next step."
"We believe that consumer engagement is going to be the critical element to the overall success of the Smart Grid," said Rob Caldwell, VP Efficiency and Innovative Technology, Progress Energy. "At Progress Energy we see the challenges clearly and are looking forward to working to help consumers and industry work cohesively together to benefit the energy economy of our country."
About the SGCC
The SGCC launched in late March of 2010, with founding members that span key stakeholder groups, including utilities, technology and consumer electronics companies, retailers, and consumer advocates. Members include: Accenture, American Electric Power,Control4, Ember, General Electric, GridWise Alliance, Heat, IBM, Intel, Itron, Magnolia/Best Buy, National Renewable Energy Laboratory, Progress Energy, Silver Spring Networks, and Stoel Rives LLP.
Additionally the Future of Privacy Forum, the Ohio Consumers' Counsel, the Demand Response Smart Grid Coalition, the Texas Office of Public Counsel, and the United Consumer Advocacy Network have joined as affiliate members.
Members gain access to original consumer research, a library of best practices, and messaging toolkits.
The SGCC will hold its first annual Symposium Monday, September 21st in the Ronald Reagan Building in Washington, DC, where leading experts will discuss cutting edge research and best practices for consumer understanding and engagement.
For more information about the Smart Grid Consumer Collaborative, visit http://www.smartgridcc.org or contact Patti Betz, 206-395-4704.
###