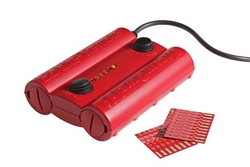 "This breakthrough electric remote ignition system will make every electrical contractor's job easier, while remaining cost-effective." Doug Ritchie, Vice President and General Manager
Tulsa, Okla. (PRWEB) May 19, 2010
Breakthrough technology now available for the electrical grounding industry with the EZ Lite Remote™ system from thermOweld® of Tulsa, Oklahoma, USA.
Consisting of a handheld battery unit and one-time use ignitors, electrical contractors can now stand up to six feet away from exothermic grounding connection installations. The unique patents-pending system allows the electrical contractor to use either the electric remote system or traditional flint ignitor at the point of installation to keep their project on-time and within budget.
In addition, electrical contractors and distributors can use their existing thermOweld EZ Lite® graphite molds and weldmetal in the truck, at the jobsite or on the shelf. The thermOweld® EZ Lite Remote™system is fully backwards compatible to make the use of remote igntion immediately possible. The system uses replaceable alkaline "D" batteries, available anywhere, and comes with a convenient cushioned carry case and pictorial instructions.
thermOweld® is a business unit of Continental Industries, a manufacturer and designer of electrical, water and gas connection products, serving infrastructure development in over 55 countries worldwide. Continental is a unit of WHX Corp of White Plains, NY.
###