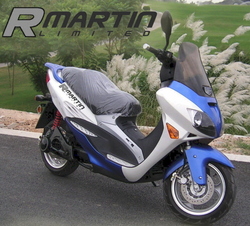 Our new LFP version of the EVD product uses state-of-the-art battery technology that is safer and will last much longer than the other battery types. Our products are priced to make it possible for anyone to 'go green' with an electric transportation alternative
Austin, TX (PRWEB) October 3, 2008
With lines at the pump in the southeast U.S. and ever higher gas prices, the http://www.rmartinbikes.com R Martin EVD electric scooters let the commuter skip the gas station all together. The R Martin EVD is alternative plug-in electric transportation that you charge by plugging into a wall outlet and uses only pennies of electricity per charge. No gas, no oil, no noise.
The new lithium model EVD electric scooter offers a new, more powerful option of the R Martin EVD. It is perfect for urban commuting. It is larger than most electric scooters and has plenty of power to keep up with urban traffic.
Battery technology has been a limiting factor for electric transportation. The new EVD models use powerful lithium-iron-phosphate (LFP) batteries to increase the power and range of the popular EVD all electric scooters.
"Our new LFP version of the EVD product uses state-of-the-art battery technology that is safer and will last much longer than the other battery types. Our products are priced to make it possible for anyone to 'go green' with an electric transportation alternative," said Randall Schleier, Sales Director for R Martin Limited.
The R Martin Limited EVDs are available from licensed dealers and through the http://www.rmartinbikes.com website.
R Martin Limited is the licensed and authorized US distributor for the EVD electric motorcycle. The EVD is DOT certified.
Dealer agreements are currently being offered for exclusive territory rights for the EVD plug-in electric products. Visit http://www.electricbikedistributor.com for more information.
About R Martin Limited:
Headquartered in Austin, TX, R Martin Limited offers several models of plug-in electric bicycles and the EVD electric scooter under the trademarked R Martin label as well as other OEM brands.
Contact:
Randall Schleier, Sales Director
R Martin Limited Company
512-476-0500
###