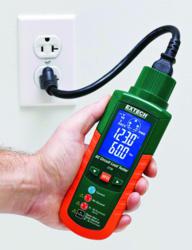 Marina maintenance professionals need a way to quickly inspect conditions in a way that eliminates mystery and complexity while helping ensure best practices for ground inspections.
Nashua, NH (PRWEB) January 17, 2013
Extech Instruments announces the new CT70 circuit load tester. The CT70 is ideal for added electrical safety in water-related environments for pleasure craft, commercial marine, swimming, and other applications.
Identifying Marina Problems with the New CT70
In a marina environment, electrical workers are faced with a worst-case scenario of rapidly growing AC electrical demands supported by an infrastructure that has largely been cobbled together to accommodate this relatively new demand for all the comforts of home. A residential neighborhood of homes would never be permitted to be wired with the constraints found in a marina environment. Yet many of today's boats rival a typical home or apartment in electrical use. With these compromises, come hazards, liabilities, and risks for marina owners, boaters, and guests.
Some of the most significant problems are related to stray electrical current or "current leakage" that leaves the pathways of wiring into the water or nearby metallic components. For example, stray DC current can turbocharge corrosion. Small amounts of AC current, whether from a shore power source or from vessels, can enter the water and pose life-threatening shock hazards. Or fire risks that can quickly send a cherished craft up in flames.
In most cases, these problems are related to electrical ground problems. Marina maintenance professionals need a way to quickly inspect conditions in a way that eliminates mystery and complexity. This is important not only to prevent issues from being overlooked but also to help ensure that best practices for ground inspections are easy to implement on a routine basis. The easier marina management can make it for ground inspections to take place, the more likely it will happen, and happen effectively, identifying issues quickly and accurately.
How the New CT70 Differs from Other Test Equipment
While many tools can be used to find such grounding problems, again, simplifying the process must be a priority. To that end, instead of using a digital multimeter in conjunction with other test equipment to find grounding problems, a purpose-built instrument that explicitly performs ground tests with one-button, "plug-and-play" simplicity can provide immediate, easy to understand results that demystify ground testing.
Testing circuits for ground faults with a tool like the Extech CT70 AC Circuit Outlet Tester can expedite inspections and make it easy for marinas to have a best practice policy in place. The Extech quickly inspects and detects circuit and wiring problems such as poor ground impedance, false grounds, missing ground fault protection, low voltage availability under load, and high ground-to-neutral voltage. In addition to providing explicit messages about the condition of a circuit, the color-coded display changes from blue to flashing red, providing a compelling visual alert when a problem is detected.
The CT70 tests GFCI and equipment protection device (EPD) circuits. In a marina setting, the latter category includes newer ELCI (Electrical Leakage Circuit Interruptor) devices that trip with 30mA of current leakage.
Testing Loads
As an AC load tester, the CT70 provides selectable loads of 12, 15 and 20 amps. Both loaded and unloaded AC line voltages are measured. Excessive voltage drop under a load is measured as an easy to understand percentage. This metric helps illustrate the severity of possible problems that are fire hazards, including bad or loose connections, as well as wires that are not sized properly or are damaged. line impedance, peak line voltage and frequency. Outlet tester functions include: GFCI trip time and current measurements; neutral-to-ground voltage testing; hot, neutral and ground impedance testing; and open or reversed wiring detection.
The new CT70 is CAT II-rated and includes an AC test cord with standard, North American, 3-prong plug for use on all NEMA 5-15 and 5-20 outlets. To learn more about the CT70, or to find a distributor, please visit http://www.extech.com/ct70.
About Extech Instruments
Extech Instruments is recognized as the source for the best handheld test and measurement tools worldwide. Founded in 1971, Extech is known for its depth and breadth of innovative testers and meters suited for electrical, HVAC, building/restoration, as well as a host of environmental testers for measurement of sound, light, humidity and other factors. All Extech meters are distributed worldwide through leading representatives, distributors and OEMs. The company is headquartered in Nashua, NH USA and is ISO 9001 2008 certified. Extech is a division of FLIR Commercial Systems, Inc.