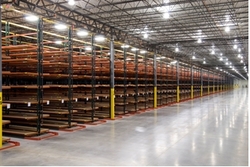 Palos Heights, IL (PRWEB) September 23, 2009
Top Chicago electrical contractor, John J. Pempek Inc., was recently honored as a recipient of the 'Award of Merit for Excellence in Construction' by the Associated Builders and Contractors of Illinois. Pempek received the award for the superior quality work carried out at Macy's Distribution Center.
Pempek was contracted to furnish and install rack lighting, emergency lighting, under conveyor lighting, panel feeders, electrical panels and conveyor panel feeders in an almost complete 800,000 sq. feet building within 90 days. The $800,000 budgeted project was completed on time and under budget by the Chicago electricians. Further work, worth $350,000 was carried out by the company due to customer additions after their personnel moved in.
"This fast paced project required a lot of detailed work. The sheer size of the facility, tight schedule, coordination with other trades and responding quickly to our clients needs as they increased our scope of work without delaying the completion date of the project was a nice challenge for our company and I am proud of our performance in meeting that challenge. The scope of work was impressive for the 90 day schedule. Two hundred forty seven 400W metal halide lights had to be removed to accommodate 792 six lamp linear fluorescent hi-bay fixtures for the rack lighting. We installed 8,340 linear feet of 4" conduit, 1000' of 3" conduit and 2000' of 2 ½" conduit. The project took approximately 5 miles of 750mcm cable, 2 miles of 500 mcm cable and 1 mile of 250 mcm cable. Our longest continuous pull, two parallel runs of four 500 mcm cables and one 250 mcm cable, was exactly 935'. We installed 4 ½" miles of smaller conduit and consumed over 15 miles of wire size #2 or smaller. Our workers carried out a total of 6,851 hours of work on this project and we are delighted our hard work is being acknowledged with this award," says Michael Pempek of John J. Pempek Inc.
Pempek is one of the leading electrical contractors in the Chicago region providing industrial electrical services, commercial contracting, machinery and equipment installation and relocation, electrical maintenance services, infrared thermography and industrial control panels. Pempek is a single source service providing all of its various services under one roof. From layout to installation, programming maintenance to emergency service, John J. Pempek serves as a one stop shop for electrical contracting needs.
Pempek operates as a complete turnkey contracting service. The firm utilizes a dependable network of quality contractors ranging from fitters, millwrights, welders, carpenters, masons and others to aid in completing their work as per their high standards. The coordination of various contractors and the provision of all services under one roof helps to reduce the client's costs and is more time efficient as well.
"We started as a general electrical firm post war in 1947 and after three generations of owners, we are still holding strong and servicing clients both old and new. We have established a reputation as dependable and consistent contractors and the variety of services we now provide in-house has only endeared us to clients even more than before," concludes Michael Pempek.
About John J. Pempek Inc.: Established in 1947, John J. Pempek (http://www.pempek.com/) is a leading Chicago area electrical contracting company. The company provides industrial and commercial contracting, machine service, high voltage service, color infrared thermography and the manufacture of UL-registered custom industrial control panels. All services, starting from layout to installation to maintenance are handled in-house by the firm.
###