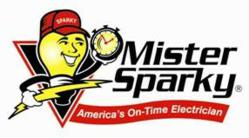 Seattle, WA (PRWEB) January 30, 2012
In light of the recent Washington winter storm, Seattle electrician, Mr. Sparky, shares expertise about electrical and heating products. Many homeowners waste a great deal of money and energy through inefficient lighting and heating. Recent innovations have provided excellent consumer home products.
Lighting Solutions
There are a number of sustainable solutions that can help reduce utility bills each month, while giving residents the piece of mind that comes from "green living". A big movement in recent years has been the switch from traditional light bulbs to halogen or LED light bulbs. The typical LED light bulb only uses about 5-15% the energy required by a traditional incandescent light bulb. While there may be some initial cost outlay in the process of changing out the home's lights, homeowners will see dramatic savings to their electricity bill due to the increased efficiency and extended life of the sustainable lighting alternative.
Temporary Power Solutions
As the winter storms roll through the Pacific Northwest, many residents find themselves without power for hours or even days at a time. While crews work to restore power, life gets interrupted while modern devices can't be used. In many rural areas, a generator is a wise idea where power outages are more frequent and a longer lasting occurrence in the winter and spring. While a generator can easily be purchased at most major home hardware stores, a certified electrician can make a better assessment of the required power supply for the appliances in the home.
A common occurrence during winter storms are "black outs" and "brown outs". These fluctuations in power can cause damage to electronic devices in the home – specifically home entertainment centers and computers. A boon to homeowners are surge protectors and UPS systems (uninterrupted power supply). These products will protect electronics from the spikes in power typical of winter storms and, in the case of uninterrupted power supplies, allow users to safely shut down their systems and save valuable computer projects.
While many energy saving techniques fall in the Do It Yourself category, it is a good idea to consult with a certified electrician to tackle the more involved projects. Seattle electrician, Mister Sparky, provides cutting-edge, high-quality products and services to prepare homes for inclement weather.
About Mister Sparky
Greater Seattle's on-time Electrician happily servicing Seattle to Tacoma and everywhere in between, including: Des Moines, Federal Way and Auburn.
###