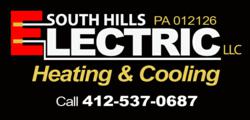 We specialize in coordinating efforts to resume electrical services to our customers
Pittsburgh, Pennsylvania (PRWEB) November 28, 2011
Pittsburgh Electricians, South Hills Electric Heating Cooling, restores power to 18 families in a Pittsburgh suburb just in time for Thanksgiving.
South Hills Electric Heating Cooling announced today that they have completed their electrical restoration of service to 18 families in the Emsworth area. "We pride ourselves on being able to complete emergency electrical services to our clients." said Pat Cray, owner of South Hills Electric Heating Cooling.
Mr. Cray added, "Any time is a tough time to be without power, but when you add the holidays into the equation, it becomes mission critical to get the job done as fast as possible." Power was lost when a faulty water heater released water and saturated the electrical meters installed in the utility room of an 18 unit apartment complex. Duquesne Light was forced to cut power to the apartment building when an unsafe situation arose damaging all the electrical components beyond repair.
According to current electrical codes, the electrical meters had to be relocated to an accessible location on the outside of the building and portions of the electrical service redesigned to accommodate these changes listed here:
"For any service wiring changes for which the Company has not specified a new meter location, the Customer shall comply with the following general guidelines:
(a) Residential meters located indoors shall be moved to outdoor locations as specified below and in Section 4.2.3(d).
(b) Meters other than residential may be required to be moved outdoors.
(c) New meter locations shall be chosen to eliminate house to house connections and service drops over roofs, awnings and
other structures.
(d) Meters shall be readily accessible to Company representatives. The best location is on the side of the building at the front corner nearest to the Company's service pole or underground service point."
~ Duquesne Light Electrical Service Installation Rules
Grounding and connections had to be updated as well to comply with the National Electrical Code. New Electrical panels were installed for all the units in the building as they were damaged by the water as well.
When asked how South Hills Electric Heating Cooling was able to pull off such a large job so quickly, the owner stated, "This is the nature of our business. We specialize in coordinating efforts to resume electrical services to our customers as fast as we can. This requires actionable plans to contact and inform the electrical service provider, the owner, our suppliers, our employees, electrical inspectors, and any other third parties of interest. Also South Hills Electric Heating Cooling would like to give special thanks to Bill Hertrich of The Hite Company and Schneider Electric for all their assistance in procuring the necessary electrical equipment. Some of it right off of the manufacturing floor. Without which the service installation would have taken weeks not days."
"Codes and Regulations are in place for a very good reason; to protect homeowners and tenants from dangerous situations that can arise from dealing with electricity and electrical equipment failures." ~ Mr. Cray
As a result the families were able to return to their residence and enjoy Thanksgiving as they should.
About South Hills Electric Heating Cooling:
South Hills Electric Heating Cooling is located at:
South Hills Electric Heating Cooling
930 Glass Run Rd
Pittsburgh, PA 15236
(412) 537-0687
on the web at http://southhillselectricheatingcooling.com
and by email: patcray(at)southhillselectric(dot)com
South Hills Electric Heating Cooling provides first class electrical, heating and air conditioning services to the greater Pittsburgh area. Since 1993, we have installed furnaces, boilers, heat pumps, air conditioners, electrical systems and hot water heaters. We are licensed, registered certified and insured to work in your home or business. We carry an A+ rating from the Better Business Bureau and are registered with the PA Attorney General License #PA012126.
###