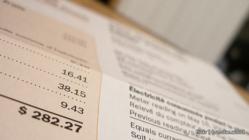 Ownership of the electricity infrastructure in Queensland, South Australia and New South Wales should be deregulated.
(PRWEB) September 20, 2012
On September 6, the Australian Energy Market Commission (AEMC) called for comment on 'Power of Choice', a draft report that recommends giving consumers new options in how they use electricity. Alan Belkin, CEO of electricity price comparison service, Electricity Wizard, believes that the recommendations miss some key ways to help reduce electricity prices for many Australians.
The AEMC report includes a recommendation for 'providing a greater range of pricing options to residential and small business consumers including the use of electricity tariffs that vary at different times of day and possibly in different locations'.
The Commission's Chairman, Mr John Pierce, in announcing the draft report, and calling for comment, also addresses demand-side participation and commercial investment in metering technology.
However, the report, Mr Belkin says, does not address several key contributors to rising electricity charges.
"Ownership of the electricity infrastructure in Queensland, South Australia and New South Wales should be deregulated" said Mr Belkin. "Governments should govern. Having governments involved in such projects, without budgets and accountability, inevitably results in wasting taxpayers' money."
"Involving the private sector in the delivery of infrastructure will lead to greater accountability, and drive down costs" he explained.
Mr Belkin also believes that a focus should be directed to 'green schemes' - programs that have cost taxpayers dearly in the form of price rises.
"It seems that the more governments are involved in the electricity sector, the more 'green' programs are introduced, and the more average households have to pay" he said. "As with other programs that governments consider, the cost to consumers of these 'green' schemes needs to be transparent, scrutinized and be subject to public discussion before they are introduced."
Mr Belkin encourages consumers to read and comment on the draft report (submissions due on October 16), and to be proactive in managing their electricity bills by conducting regular free electricity price comparisons.
For more information visit ElectricityWizard.com.au
About Electricity Wizard
Electricity Wizard's mission is to provide an easy way to find a better deal in your area. Its free electricity price comparison service has been used by over 50,000 Australians to compare rates and plans, and get a deal that best meets their needs.
The Australian gas and electricity market is one of the most competitive in the world - with dozens of companies, making it extremely difficult to know if you're choosing the right plan for you.
When consumers contact Electricity Wizard, one of their friendly Australian staff will assess their current rates and plan, and recommend better options for their home or business from their range of preferred partners.
Best of all, the service is completely free. To find a better deal on your energy bills, in minutes, visit electricitywizard.com.au