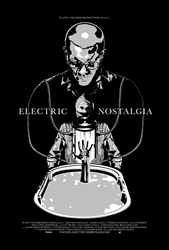 We made a black and white sci-fi drama, so we weren't expecting to get any awards for that. It was a huge shock, but very validating. We are very grateful and appreciative. –Jacob Burns
Oklahoma City (PRWEB) June 14, 2016
At the opening of the 2016 deadCenter Film Festival, "Electric Nostalgia" was presented with the award for "Best Oklahoma Feature."
The deadCenter Film Festival is Oklahoma's largest film festival where filmmakers across the globe come together to showcase their work. The festival was founded in 2001 and continues to provide opportunities for films to flourish in the local community.
"Electric Nostalgia" is a sci-fi thriller written and directed by Jacob Leighton Burns. The independent film was produced by Vinnie Hogan and Zachary Burns of Planet Thunder Productions in association with Freestyle Creative. The feature tells the story of Alexis, a young woman who is brought back from the dead and haunted with dreams from a body that is not her own.
"We convinced ourselves it wasn't going to happen. We made a black and white sci-fi drama, so we weren't expecting to get any awards for that. It was a huge shock, but very validating. We are very grateful and appreciative," said Burns.
Burns credited the cast and crew who helped make the feature happen. Their hard work was confirmed as the film sent chills through the audience and crew during the world premiere screening.
"I didn't know what to expect from the crowd. It was like a 'fingers crossed' feeling. It went really well. They laughed at the laughable moments and gasped when I hoped they would. It let us know that people were definitely interested," said Burns.
As for the future interest of this film, the cast and crew hope that "Electric Nostalgia" will be accepted into the Austin Film Festival this October.
For more information about "Electric Nostalgia" visit their website at electricnostalgiafilm.com.