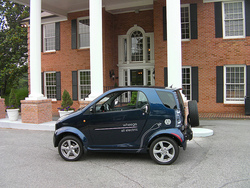 We are headquartered here in Atlanta
Atlanta, Georgia (PRWEB) July 15, 2010
WHEEGO ELECTRIC CARS, manufacturer of all-electric vehicles, today announced it has appointed Jim Ellis Auto Dealerships as its dealer throughout the Greater Atlanta, Georgia area.
"We are headquartered here in Atlanta," said Wheego President Jeff Boyd, "so we are very familiar with the reputation of the local dealerships. In Atlanta, the Jim Ellis name is synonymous with excellent business practices and top-notch customer service. We are very pleased that Jim Ellis has chosen Wheego Electric Cars as part of their portfolio as they launch Georgia's preeminent Electric Vehicle dealership.
"Wheego Electric Cars is about to beat all the major auto manufacturers to market with an affordable all-electric car," said Jim Ellis Auto's COO, Jimmy Ellis. "We will launch our EV initiative with the Wheego Whip LSV, a low-speed all-electric car that is particularly suitable to neighborhood driving and fleet usage. Customers can take the low-speed car for a test drive at our dealership in July and get a sense of the engineering, styling and overall quality of the Wheego brand… and, they can also reserve the first highway speed, crash tested, all electric car on the Wheego website for delivery beginning in September. When Wheego rolls out the highway version, called the LiFe, we'll also have the car available at our dealership for our Atlanta area customers to test drive. It's a great fit for anyone who commutes under 50 miles each way because you can drive the car 100 miles on a charge; and, then, just as easy as a cell phone, you can plug it in every night to recharge. You'll zip right by the gas station every day. Plus, you can drive this car in the HOV lane in Georgia by yourself."
The highway-ready Wheego LiFe goes approximately 100 miles on a charge, and retails for $32,995. The Wheego LiFe qualifies for a $7,500 Federal tax credit, and a $5,000 Georgia state tax credit, dropping the effective net price in Georgia to under $21,000. In addition, Georgia drivers will be able to drive the Wheego LiFe in the HOV lane (with no additional passenger in the car) by obtaining an alternate fuel vehicle license plate.
The Wheego LiFe comes fully-equipped with driver and passenger airbags, anti-lock brakes, air conditioning, and power windows and locks. The 115V lithium battery pack can be charged from a standard 120V outlet, a 240V outlet or any of the J1772 standard charging stations being installed in public locations throughout the US. It is available in red, white, blue, black, silver, and green. The Wheego Whip LiFe is a two-seat subcompact car with fit, finish and features that compete with any other subcompact car on the market.
Atlanta drivers can reserve a Wheego LiFe by visiting http://www.wheego.net and making a fully refundable $100 deposit. The highway-ready LiFe will be available through Jim Ellis Auto Dealerships beginning in September. For more information or to locate a Jim Ellis dealership, visit jimelliswheeego.com.
About Jim Ellis Auto Dealerships
Jim Ellis is a family-owned business with twelve sales and service locations and almost 40 years' experience in the Atlanta area. Jim Ellis was honored in 2008 as Time Magazine's Dealer of the Year, and has won the Consumer's Choice award for Business Excellence for the past six years. For more information about Jim Ellis Auto Dealerships, visit the company website at http://www.jimellis.com.
About Wheego Electric Cars
Wheego Electric Cars is an innovation-driven and environmentally-conscious manufacturer of Electric Vehicles (EVs). Under the leadership of Mike McQuary, CEO and former MindSpring entrepreneur, Wheego Electric Cars has become a leader in the integration of advanced technology components. Wheego Electric Cars is one of the first EV companies to deliver affordable fully capable, street legal all-electric cars for everyday consumer use. The Wheego line of electric vehicles is emission-free, making them an ideal choice for consumers and businesses who want to reduce their carbon footprint. Wheego is headquartered in Atlanta, Georgia. The cars are assembled in Ontario, California.
For more information about Wheego, and to view the list of Wheego dealers, visit the company website at http://www.wheego.net.
###