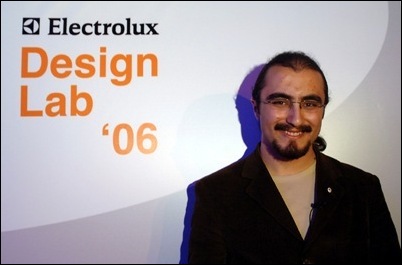 The concept not only solves a problem, but it also promotes a healthier lifestyle
Stockholm (Vocus) December 5, 2006
Could newly designed household appliances contribute to a healthier life style in the future? This was the challenge Electrolux put to young design students in the fourth edition of the Electrolux Design Lab.
Metin Kaplan, a young student from Turkey, designed what the jury thought was the most innovative product -- a product to take healthy meals on the go.
The winner of Electrolux Design Lab 2006 was announced at the Design Lab final competition in Barcelona, Spain.
Metin Kaplan capitalized on the idea that people would take healthy meals with them if they could find a way to keep warm food warm and cold food cold. He created a mobile food carrier that keeps food at the desired temperature until it's time to be eaten. This, figured Kaplan, would promote healthy eating and reduce the need for fast-food restaurants.
About the winning concept
Kaplan's concept, which he termed "Nevale," is based on the shape of an antique food container named "sefertas," a type of layered food container that's been used in Middle Eastern countries for centuries to carry homemade food. Kaplan's product is also built in layers, with a hood featuring a digital control screen, and holds up to four different hot and/or cold meals. The digital display provides information on the food's storage conditions and can be programmed to launch an automated re-heating process at a specific time (for example at lunch). Alternatively, for cold foods, "Nevale" maintains a perfect preservation temperature. Each layer works independently, ensuring both hot and cold food items can be transported along each other.
Kaplan, 21, is an industrial design student at Istanbul Technical University. Hundreds of other design students from 37 countries around the world entered this year's competition in March and were challenged to seek solutions that promote healthy eating habits for the 2016 consumer.
What the jury thought
When announcing the winner, the jury gave the following motivation:
Metin Kaplan's concept product is both historically and globally relevant and would promote a healthier lifestyle. It is a reinvented and modernized concept that easily could be used all around the world because of its simplicity that recognizes people's eating habits. Kaplan is also awarded because of a well executed project. His design process is absolutely thorough with a complete research background. The product uses form, colors and technique in a new and creative way.
"The concept not only solves a problem, but it also promotes a healthier lifestyle," says Henrik Otto, head of Electrolux design. "That became very apparent as we were looking at the whole design of the concept. The winning concept makes it easy to make healthy decisions that are good for you. I was also stunned by the fact that there is a link between the winning concept and the second and third place winners."
Additional Winners
The jury awarded second and third places, respectively, to Brian Chuan Chai Law (National University of Singapore, Singapore) for his concept that uses vacuum cooking in a new inventive way, and Eduardo Altamirano Segovia (Universidad La Salle, Mexico) for his portable cook-top that uses renewable energy.
U.S. Student a Finalist
Jonathan Assaraf, a student at the Savannah College of Art and Design, was a global finalist with his "Spice Hood" design. The "Spice Hood" concept is a cooker hood with integrated spice rack and dispenser system, designed to help reduce clutter around the kitchen while simultaneously encouraging healthy cooking with the use of herbs.
Other Finalists
Six other Finalists included Christian Jung (Pforzheim University of Applied Sciences, Germany), Clayton Tolomiotti Rezende (Centro Universitario Positivo, Brazil), Kleber Puchaski (Royal College of Art, UK), Teeravit Hanharutaivan (King Mongkut's Institute of Technology, Thailand) and Yirong Yang (The Design School of Southern Yangtze University, China.)
Distinguished International Design Panel
Jury members judged the final selections based on their design and innovation, while taking functional, aesthetical and emotional aspects into account. Members of the jury included: The Campana Brothers: Fernando (lawyer) and Humberto (architect) Campana (Brazil), Tetsuya Wakuda (Japan/Australia), Japanese-born internationally renowned, Australia-based chef, Constance Adams (USA), NASA Space Architect, and Henrik Otto (Sweden), Head of Electrolux Global Design. http://www.electrolux.com/campaigns/DesignLab2006/files//Fact_Sheet_Jury_members.pdf
More details on the current as well as past editions of Design Lab can be found at http://www.electrolux.com/designlab.
Press photography can be found at: http://www.electrolux.com/node23.aspx?folderid=20812
About Electrolux: Electrolux is a global leader in home appliances and appliances for professional use, selling more than 40 million products to customers in 150 countries every year. The company focuses on innovations that are thoughtfully designed, based on extensive consumer insight, to meet the real needs of consumers and professionals. Electrolux products include refrigerators, dishwashers, washing machines, vacuum cleaners and cookers sold under esteemed brands such as Electrolux, Frigidaire, Eureka, AEG-Electrolux and Zanussi. In 2005, Electrolux had sales of $13.6 billion and 57,000 employees. For more information visit http://www.electrolux.com/press .
Contact:
Tony Evans, Electrolux Communications, Americas
614-761-2633
# # #