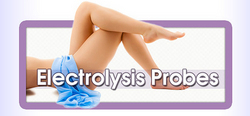 "Over the past ten years Protec has grown from a start-up in the electrolysis profession to a favorite among electrologists everywhere."
Santa Ana, California (PRWEB) October 26, 2010
Effective October 2010, Prestige Electrolysis Supply who was a vendor to electrologists of Protec, stopped selling Protec probes along with all other Dectro International products. Ron Davis, President of Aesthetic Systems USA, Inc, saw an immediate necessity in this industry to supply this very essential product. ElectrolysisProbes.com now exists to fill the immediate and ongoing need for this high demand electrolysis product by providing convenient online purchasing of the entire line of Protec probes. Davis enlisted the ecommerce development services of Fencl Web Design to assist in this endeavor in designing an industry leading web site. Davis believes he hit the mark and projects rapid growth in this product line.
Davis said, "Over the relatively short history of this site, sales statistics show that customers are initially attracted to the site's everyday 20% discount. But now, repeat customers are finding that it's worth placing larger orders less frequently. On orders over $200, the site offers an additional $10 discount. Orders of $300 or more qualify for $15 of savings at checkout. Throw in free shipping on all orders over $100 and this site offers the best pricing ever on Protec probes, 365 days of the year, with no negotiating."
Busy professional electrologists who have a difficult time ordering probes during business hours can now order online 24/7 and benefit from these great savings. There are no "special savings days" to be concerned with. Every electrologist wants to know that their order is being processed promptly and that the probes are on their way. Free shipping is available and UPS is the preferred delivery method for all orders unless otherwise directed.
Electrologists are very particular about the type of probes they use. According to Davis, "Over the past ten years Protec has grown from a start-up in the electrolysis profession to a favorite among electrologists everywhere. " Protec probes come in a full range of sizes across the following categories; one-piece insulated stainless, one-piece gold, and two-piece insulated and non-insulated stainless. Now, ElectrolysisProbes.com offers electrologists who are hooked on Protec's quality, a convenient and economical way of accessing them. "When you get used to using a specific brand of probes, other probes just don't feel the same and switching probes can sometimes involve a learning curve" says long time Protec user Louiselle Gagnon, a professional electrologist and aesthetician with a practice in southern California.
Today more than ever, electrologists need to get the best pricing possible on their probe supplies. For those who are new to Protec probes and who might have technical questions the site has a customer service hotline: 714-550-9399. Questions are always welcome. Davis states, "Unlike many online shopping cart sites today, this one wants their customers to feel supported, even though they have the ability to place orders online."
And yes, orders can be placed by phone for those who prefer interacting with a live person! Additionally, the site offers a "Contact Us" icon through which emailed questions or special requests can be delivered.
For more information on the company and products visit http://www.ElectrolysisProbes.com.
Contact Information
Ron Davis
Aesthetic Systems USA, Inc.
1715 E. Wilshire Ave, Suite 712
Santa Ana, CA 92705
Phone: 888-332-8763
# # #