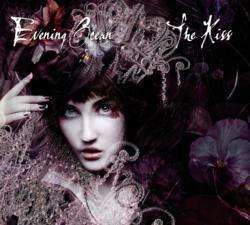 New York, NY (PRWEB) April 28, 2011
Evening Ocean's "The Kiss" joins Grammy Award winning Daft Punk's "Tron: Legacy" in Top 5 in Canada, reaches Top 25 on syndicated U.S. radio and Top 100 on Amazon.com chart.
After being named "Best New Artist Of 2006" by Top Ten Amazon Reviewer Rebecca Johnson, electronica artist Evening Ocean returns with "The Kiss" – garnering five star reviews that include Two Top Ten Amazon Reviewers: E.A Solinas and Rebecca Johnson.
"I was really impressed with 'The Kiss,'" said Rebecca Johnson. Johnson, the #6 classic ranked reviewer for Amazon.com, has been profiled in The Wall Street Journal, The Los Angeles Times, Forrester's magazine and KING 5 TV in Seattle.
Johnson continues: "I can definitely see many songs from the 'The Kiss' being placed in films and even commercials. The first 20 seconds of the song 'Nova' sounds like it could be in a Lexus commercial. If you look at electronic bands like Daft Punk and Chemical Brothers, they're getting more involved with movie soundtracks like Disney's 'Tron: Legacy' and (Focus Features) 'Hanna'. Years ago, soundtracks were the sole province of great composers like Hans Zimmer who scored 'Inception'. I see Evening Ocean's music poised to join that realm."
Evening Ocean's second album "The Kiss" arrives almost 5 years after "The Attraction" – released in 2006. "The Kiss" was mastered by Grammy Award winning Don Grossinger, who also mastered for Pink Floyd, The Rolling Stones, Brian Wilson, Metallica, Franz Ferdinand, Madonna, Faithless, and dance labels including Ministry of Sound and Strictly Rhythm.
The artwork for the CD was created by Paris based artist Natalie Shau. In addition to creating the artwork for Evening Ocean's previous CD: "The Attraction", she has also done artwork for bands including Lacuna Coil and Kerli. Her work has appeared in galleries and magazines worldwide including the French edition of Vogue.
Evening Ocean's "The Kiss" was the #2 Electronic CD for the week of 4/05/2011 at CJSW FM in Calgary. CJSW DJ Mark Sonnier on "The Kiss": "We are getting great feedback from listeners on this new record. I've been featuring music from Evening Ocean's new album The Kiss for the past several weeks. I love the layered textures and intricate melodies created in the tracks 'The Rains,' 'Beneath The Lights' and 'Nova.' Evening Ocean has created a luminous soundtrack for the overnight hours which sounds amazing all throughout the day."
Grammy Award winning Daft Punk's "Tron" Legacy soundtrack , Cut Copy's "Zonoscope" and Gil Scott-Heron and Jamie XX – "We're New Here" joined Evening Ocean in the top 5 that week.
In the US, The Kiss" was named to the "Top 25 CD's of March" (#16) on the nationally syndicated radio show: Echoes with John Diliberto. Echoes has featured artists including Ulrich Schnauss, Röyksopp and Moby. It is currently broadcast on over 130 radio stations across the United States.
Evening Ocean's previous CD "The Attraction" reached #8 on KALX -FM's (San Francisco, CA) most frequently played new music chart for the week of 1/29/2007. It was also named a KALX DJ Favorite CD of 2006. The Attraction received airplay from stations including KCRW-FM, KLCC-FM, and WRVU-FM.
At Amazon.com, "The Kiss" recently reached #73 in Top Rated in MP3 Downloads for Dance Pop. Amazon Reviewer Rebecca Johnson reflects: "I'm so happy to see Evening Ocean's 'The Kiss' beginning to be embraced by radio and listeners. I've listened to it countless times and consider it a work of rare beauty. I'm not alone either -every review I've seen for it has given 'The Kiss' 5 stars. I hope everyone who loves electronica gets the chance to experience it. "
Evening Ocean- "The Kiss" and all the CD's mentioned are available by clicking here: Amazon.com.
To learn more about Evening Ocean: http://www.eveningocean.com
To learn more about Rebecca Johnson: http://www.therebeccareview.com
# # #