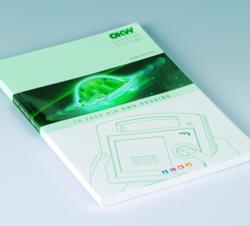 Our new catalogue is now better than ever, offering all our enclosures and tuning knobs and featuring application-specific photos to make specifying quicker and easier.
Fareham, Hampshire (PRWEB UK) 19 June 2013
OKW has launched its new 2013 product catalogue – totally redesigned with more function- and application-specific product photos to help users specify the electronic enclosures they need more easily.
For the first time, the new 220-page full colour catalogue includes both OKW's extensive range of plastic enclosures and its comprehensive line of tuning and control knobs.
The products are presented in a picture book format – supplemented with information on functions, PCB dimensions and application recommendations.
This makes it significantly easier to distinguish and compare the many different product variants and designs in the OKW programme.
Detailed ordering information is provided in a separate section at the back of the book and includes all the accessories and compatible parts in more detail, along with more assembly pictures.
The new 2013 OKW catalogue features many new products and range extensions.
These include CARRYTEC portable enclosures with integrated handle for medical and test instruments. CARRYTEC IP54 enclosures are available in three sizes – Small (222 x 205 x 80 mm), Medium (270 x 247 x 91 mm) and Large (348 x 303 x 117 mm) and as either ABS boxes for indoor use or in reinforced PA for tougher outdoor applications.
Other new ranges include IN-BOX IP66/67 rated industrial enclosures with IK07/08 impact resistance for heavy duty indoor and outdoor electronics. IN-BOX housings come in 16 standard sizes and are available with either opaque or transparent lids. Typical applications include instruments, sensors, interfaces, HVAC and security systems.
New WALLTEC IP65 wall mount enclosures replace the previous WALL TYPE S cases. They are designed for house controller electronics for HVAC, pool and sauna applications plus industrial control systems and security equipment. WALLTEC comes with or without transparent lids that can be hinged from either the right or left.
OKW has also extended a number of ranges including:
•SOFT-CASE (IP54 with TPE ring) wide format plastic handheld enclosures – now available in biodegradable material to help companies reduce their carbon footprint. The CO2-neutral Biograde selected by OKW is obtained from renewable raw materials. It offers similar properties to ABS and can be moulded in the same way.
•INTERFACE-TERMINAL (ABS, IP54) multi-purpose wall mount, desktop enclosures and handheld housings – now with new optional flush wall mounting kits for even smarter installation. The kits come in various colours, including wood effect to help the housings blend in more easily when installed in listed or other historic buildings.
Also in the catalogue is OKW's wide range of DIN rail boxes: RAILTEC B, RAILTEC C, RAILTEC SUPPORT, RAILTEC CC, RAILTEC CM, TOPTEC AND ROBUST BOX.
OKW DIN rail enclosures can be mounted in series on TS35 and TS32 rails. They range in size from 1 to 12 modules and can accommodate different terminal blocks including pitches of 5.0 mm and 5.08 mm.
OKW Sales and Marketing Director Robert Cox said: "Our new catalogue is now better than ever, offering all our enclosures and tuning knobs and featuring application-specific photos to make specifying quicker and easier.
"With such a large number of standard ranges, we're confident that you will find the housings you need for all your projects.
"And just to be certain, we have been increasing the choice of customisation options available. New technology and OKW's smart design mean that bespoke housings have become much quicker and more cost effective to manufacture than was previously possible," he added.
The new catalogue also provides far more information on OKW's comprehensive customising services which include CNC machining, rapid prototyping and RFI/EMI shielding for EMC.
OKW can also carry out printing of logos and legends using silk screen, tampo, digital and water transfer methods.
Enclosures can be painted in different colours and with a range of protective coatings. Other custom plastic enclosure options include assembly and moulding in different colours, materials and biodegradable bioplastics.
OKW also offers custom designs which integrate existing case components with new parts for very cost-effective bespoke enclosure solutions.
The new OKW 2013 catalogue can be requested by phoning 01489 583858. It can also be ordered or downloaded from OKW's website.
For more information about OKW's ranges of ABS boxes, electronic instrument enclosures and DIN rail enclosures, view the website or contact Sales and Marketing Director Robert Cox, +44 (0)1489 583858.
OKW ENCLOSURES LTD
15 Brunel Way
Segensworth East
Fareham
PO15 5TX
Tel: +44 (0)1489 583858
Fax: +44 (0)1489 583836