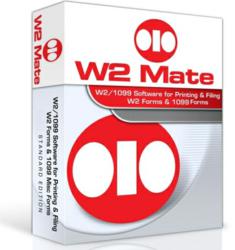 W2 Mate W2 1099 program is a special breed of applications that fills a niche often left by many tax systems. W2 Mate makes the compliance tasks associated with W2 1099 reporting easy and affordable for both businesses and tax professionals.
Chicago, IL (PRWEB) January 09, 2012
W2 Mate Software today announced the release of the 2011 Electronic W-2 Filing module for use by business filers and accounting professionals reporting W-2s to the SSA in the 2012 tax season. Headquartered in the Chicago area, Illinois, W2 Mate software is one of the leading W2 and 1099 software developers in the US, with thousands of users nationwide.
The Social Security Administration regulations outline the procedure for submitting year-end W-2 information electronically. According to these regulations, employers reporting 250 or more W-2 forms must file this information using electronic filing. The affordable, simple, easy-to-use and easy-to-learn W-2 Electronic Reporting module for W2 Mate software is designed to assist companies and payroll departments in complying with these regulations.
A free W2 software evaluation can be downloaded from http://www.W2Mate.com. Customers can purchase the software and receive it instantly.
"Many businesses spend hundreds, even thousands of dollars each year to file w2 forms electronically through W2 E-File service providers. This is why we built the W-2 Electronic Reporting module, which gives business filers the ability to e-file an unlimited numbers of W2s in-house for one low price ," says W2 Mate product manager Nancy Walters.
W2 Mate provides filers significant cost and time savings in the reporting of 1099 and W-2 payroll tax data. Typically the W2 1099 software product pays for itself the first time it is used. W2 Mate does not have any limitations on the number of employees, companies or tax forms. Many W2 Mate users have more 5000 employees or recipients in one company file.
W2 Mate also offers the ability to generate PDF W2 forms, which makes issuing W-2s to employees as simple as sending email. No forms to print, no envelopes to stuff, no paper cuts, no postage and no headache. Just enter W2 information, generate a PDF file and email. The PDF files generated by the W2 Mate W2 / 1099 compliance system are encrypted and require a password in order to be opened. This makes sending these files by e-mail or any other electronic means more secure. The electronic version of form W2 generated by W2 Mate contains all required information and complies with applicable IRS procedures relating to substitute W2 forms to employees.
W2 Mate W2 / 1099 System Highlights:

Supports W-2 Electronic Filing (E-Filing) through SSA Business Services Online .
Eliminates the need for buying Forms W2 Copy A and W3 by printing government-approved laser substitutes for these forms on plain white paper .
Supports 1099 Electronic Filing (1099 E-File) through IRS FIRE.
Eliminates need to print and mail recipient copies of 1099-MISC form or employee copies of W2 form. This software generates electronic employee copies of W2 Form and electronic recipient statements of 1099 MISC form in - Adobe PDF format with password protection for security purposes.
Complies with IRS Publication 1220 (Specifications for Filing Forms 1099 Electronically).
Complies with SSA Specifications for Filing Forms W-2 Electronically (EFW2).
W2 1099 software for filing tax forms W2, 1099-MISC, 1099-INT, 1099-DIV, 1099-R, W-3, 1096, 1099-S, 1098-T, 1098, 1099-A, 1099-B, 1099-C, 1099-PATR and 1099-OID.
Prints 1099 Form Copies & W2 Copies on blank paper.
Automatically generates 1096 and W3 Forms.
Prints on pre-printed 1099 forms & W2 Forms .
Imports data for W2 and 1099 forms from CSV files .
Imports data directly from QuickBooks, which removes the "800 Form" / "$10 Million payroll" maximum.
Exports W2 and 1099 data (employer, employee, payer and 1099 recipient information) to Excel format.
You can download a free demo of W2 Mate and see how easy it's to process W2 and 1099 Forms. Visit http://www.w2mate.com/ to get started.
###