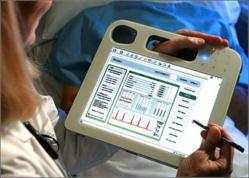 An EMR enables practices to remind patients automatically of their appointments through text messaging and email, and many systems feature automatic phone reminders.
Denville, NJ (PRWEB) July 05, 2012
"EMRs provide therapists with a one-stop resource for managing all aspects of patient care," said Chhoda. "They're efficient, cost effective and integrate easily with office workflow."
Patient portal
EMRs offer patient portals that clients can use to send messages to the office, schedule an appointment or request information. Physical therapy documentation software provides therapists with the means to engage patients in the care and management of their health for better treatment results. Therapists can share documents with the patient, and a physical therapy EMR offers a secure means for patients to provide their personal information, symptoms and concerns. Chhoda noted that patient portals require little training for staff, freeing them to devote more time to patient care.
Reminders
Cancellations, no shows and self-termination of treatment are inevitable in any practice. An EMR enables practices to remind patients automatically of their appointments through text messaging and email, and many systems feature automatic phone reminders.
Insurance verification
Patient insurance coverage runs the gamut from a full range of services to minimal intervention. When clients schedule an appointment, their insurance provider, coverage and eligibility for physical therapy services can be verified. Systems allow for verification on a single client or can be set for automatic batch verifications at the end of each day, all accomplished in real time.
Complete records
A physical therapy EMR provides a complete record for each patient, without the need to rely on patient memory, faxes or the Postal Service to deliver essential information. Therapists have access to a patient's complete medical file, along with notes, for more efficient and effective treatments. An EMR can provide labor savings within the practice of up to 30 percent on tasks that require information gathering.
Chhoda is an expert in the implementation of office systems that increase the level of patient care and enhance practice profitability. His new ways of utilizing an electronic medical record for physical therapy services offer therapists valuable insight into additional ways an EMR can benefit the financial health of their clinics, while providing a significantly enhanced level of patient care.
Chhoda's office can be reached by phone at 201-535-4475. For more information, visit the website at http://www.emrnews.com.
ABOUT NITIN CHHODA
Nitin Chhoda PT, DPT is a licensed physical therapist, a certified strength and conditioning specialist and an entrepreneur. He is the author of "Physical Therapy Marketing For The New Economy" and "Marketing for Physical Therapy Clinics" and is a prolific speaker, writer and creator of products and systems to streamline medical billing and coding, electronic medical records, health care practice management and marketing to increase referrals. He has been featured in numerous industry magazines, major radio and broadcast media, and is the founder of Referral Ignition training systems and the annual Private Practice Summit. Chhoda speaks extensively throughout the U.S., Canada and Asia. He is also the creator of the Therapy Newsletter and Clinical Contact, both web-based services to help private practices improve communication with patients, delivery better quality of care and boost patient retention.