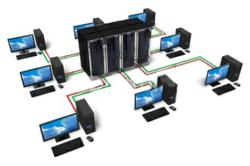 EMR helps with a more efficient billing system that provides automatic updates, and it helps record keepers provide an improved patient-scheduling system that cannot make mistakes.
Denville, NJ (PRWEB) December 10, 2012
Today's EMR, being the latest PT documentation tool, has become safer and more secure than ever. As another added benefit, numerous companies are offering new encryption software that works in conjunction with an EMR setup. And while the transition to EMR may seem like a monumental challenge at first, especially during the first few months of the year, it helps the office become far more efficient and profitable, a great advantage before the year ends.
According to Chhoda, medical record keeping has been done very much the same way for over a century now. Most doctor's offices use this system for two reasons, first, it has always been done that way, and second, it's because switching to an EMR setup appears to be a monumental task particularly for a large doctor's office that has been in practice for many years.
"Since we are now in the modern computer age where most things around us are moving at light speed, our medical records should not be stored as they were one hundred years ago. EMR gets rid of all that needed space and allows an office to become more efficient and streamlined," Chhoda said.
This process helps both the doctor and patient's needs. EMR has become more beneficial because it becomes more efficient when it comes to billing system which provides automatic updates. It helps record keepers provide an improved patient-scheduling system that cannot make mistakes. It has been studied that a medical practice implementing an EMR system can rid itself of unneeded staff workers and relieve a lot of office tension.
Chhoda who also serves as an international private practice marketing expert, removes all the confusion about the transition over to EMR. Chhoda states that offices are better served by switching over at a gradual pace, thereby making the transition an easy process.
"EMR provides for therapists and others a more cost effective management of records. However, the transition needs to be a gradual one that enables the office to carefully transcribe all of the patient's data," said Chhoda. "Once the EMR setup is in place, you'll immediately see the added benefit of the system. No more added file storage, no more paying external companies to come in and manage old paper records. Billing errors will be far less than the past system as well. It truly is the best system an office can have today in this 21st century world, and provides an office with the exact marketing and analytic tools to work with."
Chhoda's office can be reached by phone at 201-535-4475. For more information, visit the website at http://www.emrnews.com.
ABOUT NITIN CHHODA
Nitin Chhoda PT, DPT is a licensed physical therapist, a certified strength and conditioning specialist and an entrepreneur. He is the author of "Physical Therapy Marketing For The New Economy" and "Marketing for Physical Therapy Clinics" and is a prolific speaker, writer and creator of products and systems to streamline medical billing and coding, electronic medical records, health care practice management and marketing to increase referrals. He has been featured in numerous industry magazines, major radio and broadcast media, and is the founder of Referral Ignition training systems and the annual Private Practice Summit. Chhoda speaks extensively throughout the U.S., Canada and Asia. He is also the creator of the Therapy Newsletter and Clinical Contact, both web-based services to help private practices improve communication with patients, delivery better quality of care and boost patient retention.