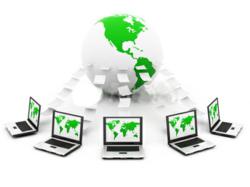 Client records are updated and modified instantly for the most current information possible with physical therapy management software.
Denville, NJ (PRWEB) August 20, 2012
"The cost savings with an EMR are significant," said Chhoda, "and provide greater profitability for practices. At the same time, environmentally conscious therapists can fulfill their desire to ease the burden on our fragile eco-systems."
Old-fashioned paper records require the cutting and processing of millions of trees each year, many of which come from vanishing rain forests that provide life-giving oxygen that affects the entire planet. Even with renewable sources of wood to make paper, the demand far outstrips the available resources.
Chhoda noted that EMRs store records electronically, eliminating the need for voluminous files of paper records and the need to create more processed paper. Files can be printed when necessary, but patient records, reimbursement requests and interaction with patients is conducted online and stored electronically. Client records are updated and modified instantly for the most current information possible with physical therapy management software.
The carbon footprint of a single physical therapy practice can be huge in terms of waste. As an adjunct to paper savings, electronic records eliminate the need for physical storage units to house paperwork and saves valuable floor space throughout the office. Handling paper documents multiple times is a time consuming process that robs practices of valuable staffing time, http://www.emrnews.com/health-care-management-overview/. EMRs provide a quick and easy way for authorized users to retrieve information from any venue where an Internet connection is available.
EMRs facilitate the integration of data from a wide variety of departments, including patient records, billing and patient portals for a complete office solution. Each facet of the practice is interconnected for flexibility. EMRs can be accessed from devices such as the iPad, providing portability for clinics offering ancillary services at spas, corporate programs and senior facilities.
A Web-based EMR has far-reaching consequences for those who want to go green. It minimizes the need for manufacturing items such as bulky computer systems and office equipment. The impact of EMRs extends even further, reducing the use of diesel fuel to transport those items and dependence on foreign oil.
Businesses owners around the world are seeking new ways to reduce their carbon footprint on the environment and Chhoda's new insights highlight the ecological advantages of an EMR. Physical therapy practices can significantly reduce their impact and save money within their clinic with an online documentation software system.
Chhoda's office can be reached by phone at 201-535-4475. For more information, visit the website at http://www.emrnews.com.
ABOUT NITIN CHHODA
Nitin Chhoda PT, DPT is a licensed physical therapist, a certified strength and conditioning specialist and an entrepreneur. He is the author of "Physical Therapy Marketing For The New Economy" and "Marketing for Physical Therapy Clinics" and is a prolific speaker, writer and creator of products and systems to streamline medical billing and coding, electronic medical records, health care practice management and marketing to increase referrals. He has been featured in numerous industry magazines, major radio and broadcast media, and is the founder of Referral Ignition training systems and the annual Private Practice Summit. Chhoda speaks extensively throughout the U.S., Canada and Asia. He is also the creator of the Therapy Newsletter and Clinical Contact, both web-based services to help private practices improve communication with patients, delivery better quality of care and boost patient retention.