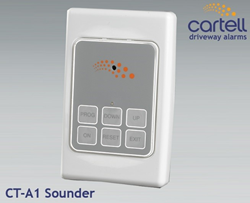 The exit feature of the CT-A1 is a tremendous convenience
Salunga, PA (PRWEB) May 12, 2014
Cartell makes a driveway alert system that makes homeowners aware every time a vehicle enters their driveway. The DriveGuard Ultra™ is Cartell's most feature-rich system to date, triggering lights, cameras and sounders as soon as a vehicle enters the driveway. One of the components that make up the system is called the CT-A1 sounder. This sounder enhances the system greatly.
The CT-A1 sounder installs in a single gang electric box and connects to the control unit via CAT-5 wire. It matches any décor with its sleek, membrane faceplate and neutral color. It has volume control (and can be muted). On the membrane are three additional buttons.
The "Reset" button allows the lights linked to the system to be manually turned off if they have not timed out by the time the homeowner enters the house. The "On" button allows the same lights to be turned on manually from the faceplate. And the third button, "Exit," turns the system's sensor probe off for an adjustable amount of time.
The exit function is advantageous when, for example, Dad needs to leave the house early to get to work. Under normal circumstances, as he drives out the driveway the Cartell sensor would detect his moving vehicle and turn on lights and sounders throughout the house. Most likely, this would wake up, or at the least, disturb the family. If, however, Dad pushes the "Exit" button on the CT-A1 sounder before he leaves, the sensor is turned off long enough for him to exit the property without being detected and causing a stir in the home.
"The exit feature of the CT-A1 is a tremendous convenience," says Jonathan Bohannon, President/CEO of Preferred Technologies Group, maker of Cartell. "Turning off the sensor assures that no one is disturbed in the house when a person leaves in the middle of the night. It is another reason Cartell is the vehicle detection system of choice."
Cartell, founded in 1975, is a division of Preferred Technologies Group, located in Lancaster County, Pennsylvania. Starting with its groundbreaking use of magnetometer technology for vehicle detection, Cartell has led the industry with innovation, functionality, quality and value. The dependability of Cartell's products far exceeds the industry standard and is backed by a five-year warranty. Every Cartell product is quality-made in the U.S.A. and sold by a national network of fine distributors.
The graphic used can be downloaded at the following: http://cartell.com/driveway/cartell-ct-a1.jpg
Media Contact
Jonathan Bohannon, President/CEO
(717) 898-0107
j.bohannon(at)cartell(dot)com
http://www.cartell.com