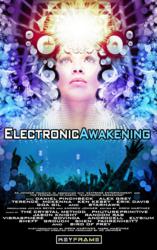 "Electronic Music is spiritual technology that allows access to higher states of consciousness" ~ Robin Sylvan, PhD.
San Francisco, CA (PRWEB) December 18, 2012
Keyframe-Entertainment and Federation of Earth are pleased to announce their partnership with Gravitas Ventures and House of Film for the Video on Demand launch of "Electronic Awakening" on December 21st, 2012. The film will be available with over 100 leading video-on-demand operators across North America including Amazon, Apple iTunes, Charter, Cogeco, Google Play, Mediacom, Rogers, Shaw Communications, Sony PlayStation, Verizon FiOS, and Vudu.
"Electronic Awakening" is an ethnographic documentary film that investigates the spirituality of Electronic Dance Music (EDM) culture and its ties to ancient shamanic rituals. The film features dozens of experts and published authors, with music from world-renowned artists such as: Shpongle, The Crystal Method, Random Rab, Phutureprimitive, Govinda, Bird of Prey, Jason Knight and many more. Interviewees include: Daniel Pinchbeck, Alex Grey, Terence McKenna, Ken Kesey, Starhawk, and Goa Gil.
Simultaneous to the online VOD release on December 21st, "Electronic Awakening" will be screening internationally, as this date also represents the end of the Mayan calendar, Winter Solstice, and the Galactic Alignment:

Synthesis 2012, a music festival and sacred gathering near the Mayan ruins of Chichén Itzá in Yucatan, Mexico. http://synthesis2012.com
Cosmogenesis, art & music transformational gathering happening in central South Africa
Pokhara, Nepal at the LoveFound Conscious Community Gathering: StarGate to Shambhalla.
In the United States at Casket Cinema, Minneapolis, MN.
La Casa de Dulce's Second Life Simulator. First screening of an "EDM" film in the Virtual World of Second Life.
In "Electronic Awakening", director Andrew Johner lifts the veil on an underground spiritual movement that has developed within electronic music cultures worldwide. This close encounter with the mysticism of rave offers insight into the future of our collective spirituality, and the film also explores the cultural significance to the prophecies of 2012.
December 21st., 2012 Global Event List: http://www.electronicawakening.com/2012_events.html
With over 100 screenings, "Electronic Awakening" has screened at Harvard, Yale University, Helsinki University, the EVOLVER network http://www.evolver.net, Japan, Europe, Australia, Brazil, Canada, Boom Festival in Portugal, Rainbow Serpent, the Tel Aviv Spirit Film Festival, Desert Rocks, LIB, MEME, Symbiosis, Photosynthesis, Atlas, Earthdance, Burning Man and Eclipse2012.
Visit: http://www.electronicawakening.com
Facebook: https://www.facebook.com/pages/Electronic-Awakening/133959056671273
For more information please contact: mary(at)keyframe-entertainment(dot)com of Keyframe-Entertainment
About Gravitas Ventures:
Gravitas specializes in the aggregation of entertainment content for worldwide distribution via established and evolving platforms in cable Video On Demand (VOD), broadband, mobile and the airline/hospitality industries. The company connects independent film-makers, producers, and distribution companies to leading cable, satellite, telco and online distribution partners.