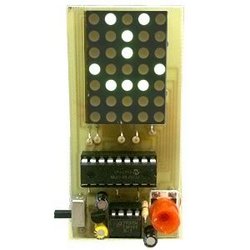 "Jam Man Rocks"
Scottsdale, AZ (PRWEB) June 18, 2010
Dennis Chaney, electronic kit designer and manufacturer from the Electronic Goldmine, has produced an electronic kit geared towards electronic kit music enthusiasts. The Electronic Goldmine, an online electronic super store has offered wholesale electronic surplus and green energy items to its loyal customer base for over forty years.
"The Jam Man" is a real hit for our company. The Jam Man will definitely help us reach youthful hobby enthusiasts, who are looking for hip yet technologically advanced electronic kits that gives them the ability to build something cool right outta the box," says Jocelyn Kremer, Operations Manager, Electronic Goldmine. "Dennis appeals to this group and is known for his ability to create and manufacture electronic kits for those looking for the latest and the greatest in electronic kit building."
"Over the years, electronic kits have become much more technologically driven, but that shouldn't mean they shouldn't be cool. To make cool looking electronic kits, young hobby enthusiasts need to look for new ideas without shelling out a ton of cash," said Dennis. "My new Jam Man rock n' roll electronic kit will definitely cater to and hopefully exceed my customers expectations."
"The World has a high concentration of young adults in their twenties who are looking for new musical kits and reaching this niche will create growth opportunities for Electronic Goldmine." added Jocelyn.
The Jam Man is available right now on the Electronic Goldmine web site for $25.95. The Jam Man Band is characterized by a harmonic mixture of band mates who have been playing together for decades, each offering their own subtle musical sophistication and homegrown texture to their beats.
The Electronic Goldmine features the Jam Man, but sells a variety of other electronic surplus and green energy items as well. In addition to these electronic kit designs, the company is known for offering high-quality green energy items that are affordable to electronic hobbyists worldwide. The Electronic Goldmine carries electronic kits, surplus and solar energy items for novice to professional kit builders.
About Electronic Goldmine, Inc.
Founded in 1970, Electronic Goldmine was started by local designer Dennis Chaney, whose vision of creating exciting and affordable electronic kits for hobbyists of all ages continues to define what the company does to this very day. Over the past forty years, the Electronic Goldmine has grown from a garage-based business to one of the leading electronic kit super stores online. Today, the company plans to launch several new solar items like it's Solar Powered Boat, making green energy a hobby staple.
Media Contact:
Jocelyn Kremer
(480) 451-7454
Electronic Goldmine
http://www.goldmine-elec.com
###