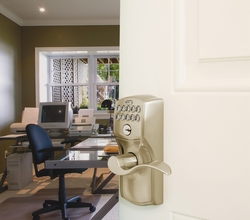 We are extremely pleased to be able to offer the Schlage LiNK System through Lowes.com, enhancing our existing roster of online retailers
Carmel, IN (Vocus) April 7, 2009
Schlage®, the most trusted brand of door locks, announced today that its innovative Schlage LiNK System is now available for purchase online at Lowes.com. The remote home-management system incorporates Z-Wave wireless technology, allowing homeowners to lock and unlock and monitor entry to LiNK-equipped doors from a computer or Web-enabled mobile phone, including Apple's iPhone and RIM's BlackBerry devices.
"We are extremely pleased to be able to offer the Schlage LiNK System through Lowes.com, enhancing our existing roster of online retailers," said Dwight Gibson, General Manager, Intelligent Residential Electronics, for Ingersoll Rand, the parent company of Schlage. "Far more than just an electronic lock, this versatile remote home-management system is ideal for tech-savvy parents who are busy juggling work and school schedules. They will appreciate the control and convenience provided by the Schlage LiNK System, not to mention the peace-of-mind that comes with receiving an e-mail or text message the moment the kids arrive home from school. And because each member of the family can have a unique code, it's possible to know when each child walks through the front door."
"The easy-to- use, innovative Schlage LiNK keypad locks and deadbolts will allow our customers a convenient way to monitor their front door anytime, anywhere from their Internet-capable phone," said Ed Pomeroy, Lowe's Vice President of Merchandising in Hardware. "In addition, it provides a new way to enhance their home's security and protect their loved ones, all the while keeping control in their busy lives."
No More Fumbling for Keys
Schlage LiNK System deadbolts and locks eliminate the need to carry or circulate keys. Homeowners can lock and unlock LiNK-equipped doors by entering a 4-digit code on the lock's 10-digit keypad or by using a mobile phone with a data plan to access the password-protected Schlage LiNK online portal. It's also possible to set up temporary entry codes for day workers, such as a cleaning lady or plumber, saving time and frustration for working families.
Homeowners can also choose to receive e-mail or text notifications when specific user codes are entered on the lock's keypad. The system stores data for 90 days, providing a record of who enters your home at what times and on which days, making it easy to track code activity.
The Schlage LiNK System starter kit includes one Schlage LiNK deadbolt or lock, the Schlage LiNK network communications Bridge, and a Light Module for remotely controlling a lamp that is plugged into it. The Bridge connects to the home's existing router and uses Z-Wave technology to transmit data via low-power radio signals to the LiNK System lock. Additional Schlage LiNK System deadbolts and locks are sold separately and available in bright brass, satin nickel and aged bronze finishes to complement any décor.
The manufacturer's suggested retail price of the Schlage LiNK Starter Kit is $299 and additional Schlage LiNK deadbolts or locks are $199 each. There is also a $12.99 monthly subscription fee--which works out to less than 50 cents a day--for 24-hour access to the Schlage LiNK online portal and mobile-phone applications, which will enable homeowners to control a variety of Z-Wave enabled devices, including home thermostats and security cameras.
Easy Installation
Installing Schlage LiNK System deadbolts and locks is a straightforward process that takes about 30 minutes and requires only a screwdriver. Replace the existing door lock with the LiNK System (which runs for three years on four AA batteries) and then go online to register the system. The next step is to set up the network communications Bridge and, once the installation is complete, begin assigning personalized codes for anyone who needs access to the LiNK-equipped door.
Award-Winning Technology and Design
The innovative Schlage LiNK System has received the following awards:

Constructech magazine's Top New Products for 2009 Award honoring the most innovative technology solutions developed for the homebuilding market. LiNK was cited for its uniqueness and overall usefulness to the residential construction industry.
Design Journal 's ADEX GOLD Award recognizing design excellence. ADEX stands for Awards for Design Excellence and is the largest and most prestigious awards program for furniture, fixtures and finishes marketed to the design trade.
For more information about the Schlage LiNK System, visit http://www.link.schlage.com. For details on how to purchase the system online, visit http://www.lowes.com/schlagelink.
About Schlage & Ingersoll Rand Security Technologies
Schlage® is the leader in security devices, trusted for more than 85 years, spanning both the commercial and residential markets. Commercial grade quality is built into every Schlage® product. The brand is on the forefront of developing cutting-edge technology and innovation such as wireless security products and biometrics, among others. http://www.schlage.com
Ingersoll Rand Security Technologies is a leading global provider of products and services that make environments safe, secure and productive. The sector's market-leading products include electronic and biometric access control systems; time and attendance and personal scheduling systems; mechanical locks and portable security, door closers and exit devices, steel doors and frames, architectural hardware and technologies and services for global security markets.
Ingersoll Rand Security Technologies is a sector of Ingersoll-Rand Company Limited, a global provider of products, services and solutions to industries as diverse as transportation, manufacturing, food retailing, construction and agriculture. http://www.ingersollrand.com
About Lowe's
With fiscal year 2008 sales of $48.2 billion, Lowe's Companies, Inc. is a FORTUNE® 50 company that serves approximately 14 million customers a week at more than 1,650 home improvement stores in the United States and Canada. Founded in 1946 and based in Mooresville, N.C., Lowe's is the second-largest home improvement retailer in the world. For more information, visit Lowes.com.
About Z-Wave
Z-Wave is an award-winning, proven and interoperable wireless mesh networking technology that allows a wide array of devices in and around the home to communicate including lighting, appliances, HVAC, entertainment centers and security systems. Z-Wave brings many benefits to everyday life including remote home monitoring, home healthcare, safety and security, and energy conservation. Z-Wave certified products are currently available from leading consumer brands in more than 300 products. Z-Wave is the recipient of the Wall Street Journal Technology Innovation Award in the wireless category, the CNET "Best of CES Award" in the enabling technologies category, along with PC World's World Class Award. For more information about Z-Wave, please visit http://www.z-wave.com.
###