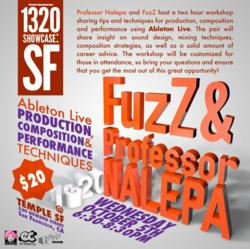 Be prepared to lose your face in the futuristic sounds of 1320 Records.
San Francisco, CA (PRWEB) October 01, 2011
Get ready to shake your booty while listening to the hottest up-and-coming electronic musicians at 1320 Showcase: SF at Temple nightclub on Howard Street in San Francisco on Wednesday, October 5 from 9 pm to 4 am. Co-sponsored by ihatefun Records and Euphonic Conceptions, this thumptober event will feature seven of 1320 Records' rising musical acts.
This free San Francisco live music event will debut UK producer Little People, followed by performances by Professor Steve Nalepa, bass heavyweight DJUNYA, the genre-blending Chron4 featuring the world famous James Christopher, LA synthmeister FuzZ and SF up-and-comers The Bins along with the new Bay Area project Smash and Grab.
"This will be a night for electronica aficionados to enjoy skillfully produced music unlike anything they have ever heard before," said Jerome Forney, Director of Digital Operations and Marketing at the Independent Distribution Collective. "Be prepared to lose your face in the futuristic sounds of 1320 Records."
Immediately prior to the event, Steve Nalepa and FuzZ will conduct a not-to-be-missed Ableton Live software workshop at the San Francisco nightclub. Geared towards industry professionals, electronic performers and local music students who are looking to advance their curriculum and skill sets, the $20 workshop will run from 6:30 to 8:20 pm.
"Ableton Live is all about composition, songwriting, recording, production, remixing and live performance," said Nalepa "Live's software offers a nonlinear, intuitive flow and powerful real-time editing and flexible performance options that make it a great studio tool and a favorite with live performers."
The event will showcase a diverse array of talent from the ever-expanding 1320 Records roster. 1320 Showcase: SF is hosted by ihatefun Records, a San Francisco imprint of 1320 Records that features performing artists Chron4 and Smash and Grab; Euphonic Conceptions, a promotions and events company; and 1320 Records. The music of many of 1320 Records' artists can be downloaded for free at 1320Records.com.
Little People (littlepeoplemusic.com) makes downtempo electronic music that's part beats, bleeps and snippets of other people's music. Joseph, Jr., also known as DJUNYA (DJUNYA.com), is an eclectic producer who focuses on the heavy tones of the British-influenced dubset genre.
Chron4 (blog.1320records.com/2011/08/chron4-edge-engagement-video) is a four-person collective featuring James Christopher, JLS, Manny Vibes, and ill45. Together, the foursome push an innovative and eclectic take on original productions centered on dubstep, electro house, dirty south, minimal drum and bass and drumstep beats plus concise lyrical delivery.
The music of FuzZ (soundcloud.com/fuzzdavid) blends face-slapping bleeps with insulting bass lines and evil arpeggios in a mad swirling concoction of electro, dubstep, hip hop, funk and psychedelia. His debut EP, "Crepes In Your DVD Drive," is sure to make waves, dropping soon on 1320 Records.
Borrowing from a diverse range of genres from '60s funk to Chilean protest era music, The Bins (digital.1320records.com/search/release.php?RELEASE_ID=750) manage to concoct a sound that feels familiar, while challenging listeners to explore styles of music that would otherwise seem inaccessible.
Smash and Grab (soundcloud.com/smash-and-grab) is a 2 piece Moombahton project featuring Andrew Ribotto and Jerome Forney. These two have been performing across the US for over a decade in various groups including the Flying Skulls and Lasermoth, and also performing as solo artists. Smash and Grab brings them back to their electronic roots, playing dance floor friendly, four on the floor mind twirling beats. A mixture of tracks, loops, and the Electron Machine Drum brings a unique twist on the genre by adding a live improvisational element unlike anyone else.
For more information about 1320 Showcase: SF or any other event at Temple at Zen Compound, call the San Francisco nightclub and event venue at (415) 978-9942 or visit them on the web at templesf.com.
About Steve Nalepa
Steve Nalepa (stevenalepa.com) is a producer, composer, DJ, professor and mad scientist collector revered in avant-garde circles for his studio alchemy and genre bending. He's produced tracks with such legends as Bill Laswell and Pharoah Sanders, performed with the LA Philharmonic at Walt Disney Concert Hall, and shared the stage with some of the most revered electronic musicians and video artists in the world.
Nalepa has energized crowds at festivals internationally including Glade, Decibel, Secret Garden Party and Coachella. Nalepa is one of 100 artists featured in the acclaimed Visionaire 53: Sound; his song "Flatlands" joining original pieces from David Byrne, U2, Danger Mouse, The Beastie Boys and more on five 12" vinyl record picture discs packaged with a portable record player inside a specially produced domed case.
About 1320 Records
1320 Records is a boutique record label located in Athens, Georgia that specializes in promoting emerging artists of futuristic electronic music. 1320 Records has launched the careers of successful artists, such as Eliot Lipp, Eskmo, the Polish Embasador and STS9 (Soundtribe Sector 9), a band that now performs to sold-out audiences worldwide.
Euphonic Conceptions is a promotions and events company, and ihatefun Records is a sub-label of 1320 Records. 1320 Records was founded by live electronic pioneers STS9 (Sound Tribe Sector 9).
About Zen Compound
The Zen Compound is an entertainment complex housing Temple Nightclub, Ki Sushi, TMG Recording Studios, Temple TV and ZCFM Radio all with a sustainable focus.
# # #