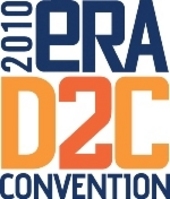 Arlington, VA (PRWEB) June 24, 2010
The Electronic Retailing Association (ERA) is pleased to announce its most comprehensive and robust education program ever at the 2010 ERA D2C Convention, held September 21-23, 2010 at the Wynn Hotel in Las Vegas.
The ERA D2C Convention will launch on Tuesday, September 21, with a dedicated education Day available to All Access Pass holders, with more than a dozen sessions held across four tracks, covering the entire spectrum of direct-to-consumer marketing and commerce, including Direct Response Success, Digital Marketing Intelligence, Operations and Profitability and ERA Government Affairs: Protecting Your Profitability. The wildly popular DRTV 101 class also returns, ideal for aspiring direct response marketers.
Four additional Spotlight Sessions will be held on the D2C show floor on the 22nd and 23rd, available to attendees with either an All Access Pass or Show Floor Only Pass. These sessions will include a comprehensive analysis of the $25 billion affiliate and online performance-based commerce from the direct response marketer's perspective; case studies featuring the latest innovations in direct response television (DRTV); a discussion of trends within DRTV production and a panel discussion with some of the leading women executives in direct-to-consumer retail, hosted by ERA President and CEO Julie Coons.
The following tracks and sessions highlight Tuesday's full education day:
Track 1: Direct Response Success

Tracking DRTV Trends 2010
Creating the "Ah-Ha Moment"
The Hitmakers, hosted by hall-of-fame spokesperson Forbes Riley and featuring executives from some of the most successful retailers in direct response
Track 2: Digital Marketing Intelligence

Engaging Consumers in Their Natural Habitat
Driving Conversion Through Landing Page Optimization
Phone Smarts: Real World Mobile Success Stories
Track 3: Operations and Profitability

Best Practices in Teleservices
Rapidfire: 25 Techniques to Drive Back-end Profits
Opposing Forces, moderated by industry veteran Timothy Hawthorne and analyzing the critical dynamics between advertisers, media representatives and the media agencies in between
Track 4: ERA Government Affairs: Protecting Your Profitability

Best Practices in Advance-Consent Marketing
Colorado's New Tax Law—and its Impact on Online Retail
Waging War Against Counterfeiting, featuring some of the country's leading anti-counterfeiting attorneys and investigators
It's a comprehensive, compelling and vitally important education program that's just another reason why the 2010 ERA D2C Convention is the one event electronic retailers can't miss. Register today!
About the 2010 ERA D2C Convention
The Electronic Retailing Association's 2010 ERA D2C Convention is the 20th annual show where the industry's top technology innovators, manufacturers, buyers and marketers meet to learn about the hottest trends in the direct-to-consumer marketplace and meet with partners and potential customers to seal critical business relationships. The event will feature more than 3,200 attendees and over 100 exhibitors, a variety of education sessions on industry related topics and expansive networking opportunities, as well as wide variety of events on the tradeshow floor. For more information, please visit http://www.D2Cshow.org.
About the Electronic Retailing Association
Representing a more than $300 billion market, the Electronic Retailing Association (ERA) is the only trade association in the U.S. and internationally that represents leaders of the direct-to-consumer marketplace, which includes members that maximize revenues through electronic retailing on television, online and on radio. ERA strives to protect the regulatory and legislative climate of direct response while ensuring a favorable landscape that enhances e-retailers' ability to bring quality products and services to the consumer. ERA members include some of the industry's most prominent retail merchants, including Allstar Products Group, eBay, Discovery Communications, Gaiam, Google, Guthy-Renker Corporation, HSN, Oak Lawn Marketing, QVC, Telebrands, ShopNBC and Thane. For more information about ERA, please visit http://www.retailing.org.
# # #