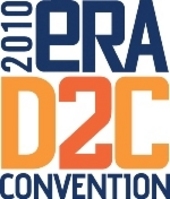 Arlington, VA (PRWEB) September 9, 2010
The Electronic Retailing Association (ERA) is offering a full day of education at the 2010 ERA D2C Convention on Tuesday, September 21, 2010 at the Wynn Las Vegas. More than 50 industry leaders will speak on topics across four tracks covering the entire spectrum of direct-to-consumer marketing and commerce. In addition to the franchise Direct Response Success Track, the education program also features the Digital Marketing Intelligence, Operations and Profitability and ERA Government Affairs: Protecting Your Profitability Tracks.
The following three sessions are must-attend for any All Access Pass holder:
1. Engage the Consumer in Their Natural Habitat, taking place from 11:15 a.m. to 12:15 p.m. "Media fragmentation" is such an overused term it's almost become meaningless. Perhaps a better way to look at the phenomenon is to understand that the way consumers formulate purchase decisions has changed dramatically—and permanently. Traditional ads, search, peer reviews, social media and other platforms all play key roles as consumers toggle between television, laptop and mobile phone. In this session, attendees will learn from industry leaders cutting-edge—yet proven—best practices for developing integrated, multichannel campaigns that reach and resonate with today's consumer, to drive revenue and improve ROI. The retail industry is evolving. There's no way around it. Attend "Engage Consumers in Their Natural Habitat" and stay ahead of the curve.
2. Rapidfire: 25 Techniques to Drive Backend Profits, is from 4:00 p.m. to 5:00 p.m. Unfortunately, direct response marketers often view their back-end operations merely as cost centers—necessary expenses that really drag on the bottom line. But in this session, attendees will learn techniques on how to either save or even make money from the back-end that you can then funnel into other parts of the business. Whether it's in fulfillment and order processing, customer service or web marketing and data analytics, this session is sure to provide you with a few bottom-line-oriented tips that you can implement immediately upon returning to your office.
3. Why a Colorado State Law Could Turn E-commerce on its Head, taking place from 11:15 a.m. to 12:15 p.m., focuses on the little-known issue that could have the biggest impact on attendees' e-commerce business. The law, which went into effect May 1 of this year, imposes a significant (and some say unconstitutional) burden on online retailers who don't even have a physical presence in the state. Learn from two of the nation's leading attorneys on this issue, Bennet Kelley of the Internet Law Center and Matthew Schaefer of Brann and Isaacson (who is directly involved in a legal challenge to the legislation). Syndero's Pat Donohoe will offer the e-retailer's perspective.
For more on these and all of the other compelling education sessions and to register for the D2C Convention, visit D2Cshow.org.
About the 2010 ERA D2C Convention
The Electronic Retailing Association's 2010 ERA D2C Convention is the 20th annual show where the industry's top technology innovators, manufacturers, buyers and marketers meet to learn about the hottest trends in the direct-to-consumer marketplace and meet with partners and potential customers to seal critical business relationships. The event will feature more than 3,200 attendees and over 100 exhibitors, a variety of education sessions on industry related topics and expansive networking opportunities, as well as wide variety of events on the tradeshow floor. For more information, please visit http://www.D2Cshow.org .
About the Electronic Retailing Association
Representing a more than $300 billion market, the Electronic Retailing Association (ERA) is the only trade association in the U.S. and internationally that represents leaders of the direct-to-consumer marketplace, which includes members that maximize revenues through electronic retailing on television, online and on radio. ERA strives to protect the regulatory and legislative climate of direct response while ensuring a favorable landscape that enhances e-retailers' ability to bring quality products and services to the consumer. ERA members include some of the industry's most prominent retail merchants, including Allstar Products Group, eBay, Discovery Communications, Gaiam, Google, Guthy-Renker Corporation, HSN, Oak Lawn Marketing, QVC, Telebrands, ShopNBC and Thane. For more information about ERA, please visit http://www.retailing.org .
# # #