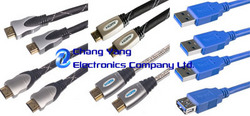 (Vocus) September 20, 2010
It's the era of HD. Since the release of the movie "Avatar" consumers are seeking for better visual experiences everywhere. 3D movies, 3D home theatres… the craving for faster, better technology is never ending.
To have the ultimate 3D experience you need the tools for it. And here it comes. The HDMI 1.4 cable is the key in bringing true 3D gaming and 3D home theater to the mass market, supporting resolutions up to 1080p in 3D. It incorporates Ethernet, Audio Return Channels, 3D, 4K support, among other features. With it, you no longer need separate cables for Ethernet, Audio, file transfers; all you need is this one cable which already has all these functions!
Chang Yang Electronics Co., Ltd., an Adopter of HDMI Licensing LLC., states that HDMI 1.4 cable and USB 3.0 cable will be their products of focus this year at TAITRONICS 2010, Taipei, Taiwan (Oct 11-14) and Hong Kong Electronics Fair, Hong Kong (Oct 13-16) . The HDMI 1.4 cable will replace the older versions and bring drastic changes to the industry. And the new USB 3.0 cable will increase transfer speed by 10 times in comparison to the previous model. Both products will bring faster, easier solutions for personal, home and office environment.
The company, founded in 1984, specialized in the manufacturer of Connectors and Cables which include Audio, Home Theater, Video, Computer and Network Essentials. With more than 20 years of experience in Taiwan and major European markets, Chang Yang Electronics knows the only way to keep with the competition is through dedication to the quality of its products and services, and competitive pricing. ISO 9001 and ISO 14001 in hand, and CE?FCC approved, Chang Yang Electronics has been accredited reliable ODM and OEM partner by major businesses.
HDMI 1.4 Features:

HDMI Ethernet Channel – Adds high-speed networking to an HDMI link, allowing users to take full advantage of their IP-enabled devices without a separate Ethernet cable.
Audio Return Channel – Allows an HDMI-connected TV with a built-in tuner to send audio data "upstream" to a surround audio system, eliminating the need for a separate audio cable.
3D – Defines input/output protocols for major 3D video formats, paving the way for true 3D gaming and 3D home theater applications.
4K Support – Enables video resolutions far beyond 1080p, supporting next-generation displays that will rival the Digital Cinema systems used in many commercial movie theatres.
Content Type – Real-time signaling of content types between display and source devices, enabling a TV to optimize picture settings based on content type.
Additional Color Spaces – Adds support for additional color models used in digital photography and computer graphics.
HDMI Micro Connector – A new, smaller connector for phones and other portable devices, supporting video resolutions up to 1080p.
Automotive Connection System – New cables and connectors for automotive video systems, designed to meet the unique demands of the motoring environment while delivering true HD quality.
Chang Yang Electronics Co., Ltd. will be attending the 2010 TAITRONICS and 2010 Hong Kong Electronics Fair. Interested parties may reach them at their booth for more information.
TAITRONICS 2010
Dates: 2010/10/11-14
Location: TWTC Nangang Exhibition Hall
Booth: K610
Hong Kong Electronics Fair
Dates: 2010/10/13-16
Location: Hong Kong Convention and Exhibition Centre
Booth: 5FC34
###